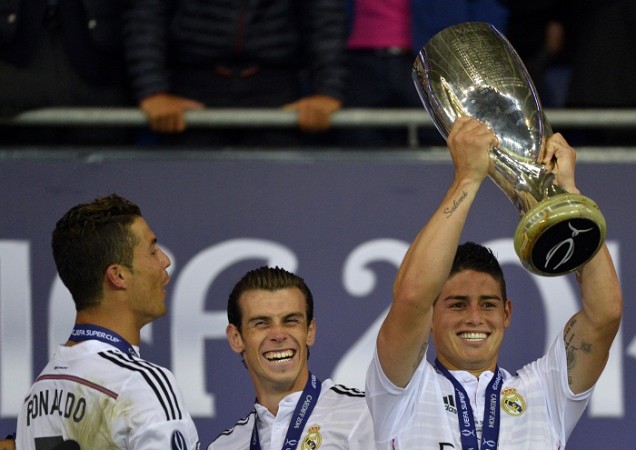 Cristiano Ronaldo was the star of the show in the UEFA Super Cup match between Real Madrid and Sevilla, and the Portuguese superstar's exploits were capped off by a special man of the match presentation ceremony.
After leading Real to a 2-0 victory over Sevilla in Cardiff, Ronaldo was the obvious choice for the man of the match award and the night only got better for the Portuguese when he was given the honour for the best player by none other than his mentor – former Manchester United manager Sir Alex Ferguson.
Ronaldo became the superstar that he is right now thanks largely to Ferguson and his tutelage, and the 29-year-old thanked the Manchester United legend after receiving the trophy.
"I want to thank Sir Alex Ferguson for giving me this man of the match trophy -- for me it means a lot as he was the coach who taught me so much when I was in Manchester at 18 years of age," Ronaldo was quoted as saying by UEFA's official website.
The night could not have gone better for Ronaldo, who opened the scoring for Real Madrid in the first half, before as good as finishing the game off early in the second 45.
The performance will come as a huge relief for both the player and his fans, with the former Manchester United man suffering from injuries towards the end of last season, which then carried onto the World Cup as Portugal crashed out in the group stages.
"It was my first match so I was a bit unsure what would happen but I felt good and the team helped me," Ronaldo added. "I scored the first goal which gave me confidence. I felt comfortable and didn't feel any pain.
"We knew it would be difficult but we played better and created more chances. We played with more intensity, tried to attack more and scored two goals. We were deserving winners."
While it was all about Ronaldo at the end of the match, the Super Cup also witnessed the competitive Real debuts of Toni Kroos and James Rodriguez, who showed enough to suggest Real are going to be a seriously tough nut to crack in the Champions League as well as the La Liga this season.
"[Kroos and Rodriguez] played well and helped the team win this important trophy," Ronaldo observed. We are happy to have them with us. I think Kroos and James are great footballers, they are going to do well here."