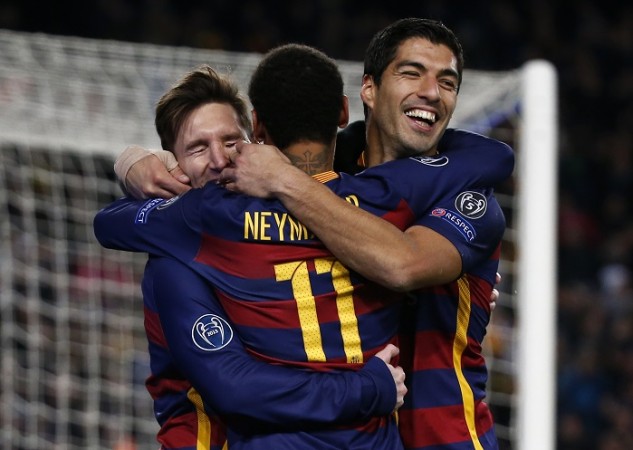 "Please not Barcelona again", will probably be Arsenal manager Arsene Wenger's wish as the UEFA Champions League last 16 draw takes centre-stage in Nyon on Monday, with the likes of Real Madrid, Chelsea and Bayern Munich also finding out their fate.
Arsenal have been drawn with the bigwigs – primarily Barcelona and Bayern Munich – quite a few times in the recent past, which, in turn, has seen them knocked out of the first round of the knockout stages of the Champions League far too often for the fans' liking.
Having finished runners-up again, and that too only just, Arsenal are in danger of drawing another big team in the Champions League round of 16, with Barcelona and Real Madrid amongst them. The other teams that Wenger's men can draw are Atletico Madrid, Wolfsburg and Zenit St. Petersburg.
Even if Arsenal avoid one of the title favourites, Wenger and his squad will be wary of complacency, which eventually led to their demise last season, when they crashed to Monaco after a woeful first leg.
Apart from Arsenal, Barcelona could also draw PSG and Juventus, the team beaten by Lionel Messi, Luis Suarez, Neymar and co. in the final last season, while Real Madrid, who cannot play PSG in the last 16 considering they were in the same group, will also want to avoid a clash with the Italian champions.
Manchester City might have avoided the really big teams by finishing top of their group, but the possibility of facing PSG is real, with Chelsea also a possible opponent for the French champions, who will again be led by the peerless Zlatan Ibrahimovic.
Juventus is another possible opponent for Chelsea, and the manner in which their season is going, Jose Mourinho will want to avoid facing such a big opponent in the last 16 of the Champions League, even if the knockout stages only begin in February.
The same suspects will come into play for Bayern Munich as well, and it is safe to say that we are likely to see a fair few big last 16 battles in this season's Champions League.
Teams in draw: Group winners: Real Madrid, Wolfsburg, Atletico Madrid, Manchester City, Barcelona, Bayern Munich, Chelsea, Zenit St. Petersburg.
Runners-up: Paris Saint-Germain, PSV Eindhoven, Benfica, Juventus, Roma, Arsenal, Dynamo Kyiv, Gent.
Note: Teams from the same group and same country cannot be drawn together.
Where to Watch Live
Get the round of 16 fixtures HERE
The UEFA Champions League last 16 draw is scheduled for a 12 pm CET (4.30 pm IST, 11 am GMT, 6 am ET) start. Ten Action will broadcast the entire draw live in India.
Viewers in the UK can watch the draw live on BT Sport, while the action can be watched live in the US on Fox Sports, with the live streaming option on FoxSoccer2Go.
Bein Sports will show the Champions League draw live in France, Canada, Middle East, Thailand, Indonesia, North Africa, Spain and Australia.
Audience from around the world, including India, can also watch the video of the draw by online live streaming on UEFA.com. Note: Some locations will be geo blocked.