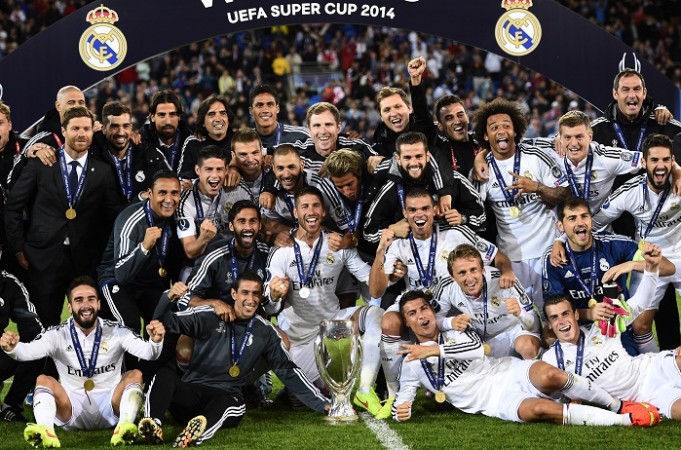 After ten teams, including Arsenal, confirmed their place in the Champions League group stages over the last couple of days, all 32 sides will now look on intently to see just what teams they are grouped with when the UEFA Champions League Draw takes place at the Grimaldi Forum in Monaco on Thursday evening.
Where to Watch Live
The Champions League draw is scheduled to start at 5.45 pm CET (9.15 pm IST) and UEFA's official website will live stream all the action online HERE. Viewers in the UK can also catch the draw on Sky Sports News or via by live streaming HERE or HERE. TV Coverage in the US will be on Fox Sports, while the audience can also watch the events unfold online via live streaming HERE. Sportsnet is the place to be for viewers in Canada, while the action can also be live streamed HERE.
Four teams each from the English Premier League, La Liga and Bundesliga have qualified for the group stages, and none of the sides from the same league can, of course, be drawn together.
From the Premier League, Chelsea and Arsenal will be seeded in Pot 1, with Manchester City in Pot 2, and Liverpool making a return after quite a few seasons in the wilderness, in Pot 3. Each group will have one team each from each pot, with eight total groups of four.
Real Madrid, the defending champions, Barcelona and Bayern Munich are the other heavy hitters in Pot One, along with Benfica, Atletico Madrid, last year's runners-up, and FC Porto.
There are several intriguing groups that could be formed, with Arsenal, who were in the Group of Death last season along with Borussia Dortmund, Napoli and Marseille, hoping for a relatively comfortable group.
Real and Bayern could of course run into Premier League opposition in the shape of Manchester City or Liverpool with one of Roma and Juventus also a real possibility.
"We know we are Manchester City and have a strong squad to play against the best teams in Europe so we will see the draw and this time if we have a little bit more luck than the last few years," said City right-back Pablo Zabaleta to the Independent.
"We were in the group of death and it has always been tough for us in Champions League -- but it is a competition we are looking forward to and hopefully we can do better.
"The rest of the teams see Manchester City as a tough team to have in the group and I think that is the most important thing for us."
Every season there is a clear group of death in the Champions League, and all of the big guns, even the ones in Pot 2, Pot 3 and Pot 4 will want to avoid being drawn into that category.
The UEFA Best Player in Europe award will also be given out on the night, with Cristiano Ronaldo of Real Madrid, and Bayern Munich duo Manuel Neuer and Arjen Robben the three players shortlisted.
Pot 1: Real Madrid, Barcelona, Bayern Munich, Chelsea, Benfica, Atletico Madrid, Arsenal, Porto.
Pot 2: Schalke, Borussia Dortmund, Juventus, PSG, Shakhtar Donetsk, FC Basel, Zenit St. Petersburg, Manchester City.
Pot 3: Bayer Leverkusen, Olympiakos, CSKA Moscow, Ajax, Liverpool, Sporting Lisbon, Galatasaray, Athletic Bilbao.
Pot 4: Anderlecht, Roma, APOEL Nicosia, BATE Borisov, Ludogorets, Maribor, Monaco, Malmo.