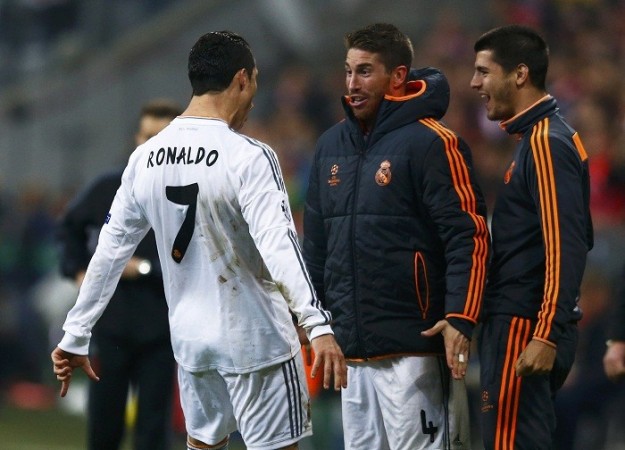 Real Madrid manager Carlo Ancelotti praised his team for reaching the final of the UEFA Champions League by beating the defending champions Bayern Munich 4-0 on Tuesday.
Ancelotti said everything worked out perfectly for his team and hailed Sergio Ramos, who scored a brace in the space of four minutes, to put Real in front early in the match.
"I offer huge congratulations to everyone, our players did so well. When everyone works together you can then add the quality and things can work out perfectly," Ancelotti said.
"We prepared our dead-ball moves well as we know they have problems at the far post. Sergio Ramos is having a magnificent season, he is the best defender in the world. In order to win we needed an enormous effort from everyone. I really liked our defensive work while the full-backs and midfielders supported our attack very well."
Ancelotti said everyone in the team worked hard for achieving this result and they are excited to be in the final. He added that they are not concerned about which team they are going to face in the final, as their objective is to lift the cup.
"I thought a lot about how we could win this game but the way in which we did so was hard to imagine. This team never ceases to surprise me and today they were very good," the Italian added. "I am so happy because the players and everyone at the club has worked hard for this. We are going to compete in this final and look to win it."
"I don't know who I would prefer to face in the final. Chelsea have a lot of experience while Atletico are really eager. The most important thing from our perspective is that we are going to be there."
A double from Ramos and forward Cristiano Ronaldo helped Real outplay the Bundesliga giants Bayern 5-0 on aggregate. Bayern coach Pep Guardiola said the team is disappointed after losing the game by such a large margin. He added his team played much better in the first leg, but Madrid punished them in the second match.
"Of course we are disappointed and sad to have lost that game. We have lost, we lost clearly and by a large margin. What we did against Arsenal and Manchester [United] did not work today," Guardiola said. "Also in the first leg in Madrid we had more control and at least a couple of chances. Today [Tuesday], just a few. That's why we have lost the semifinal. You play with the ball and if you don't have it that doesn't work."