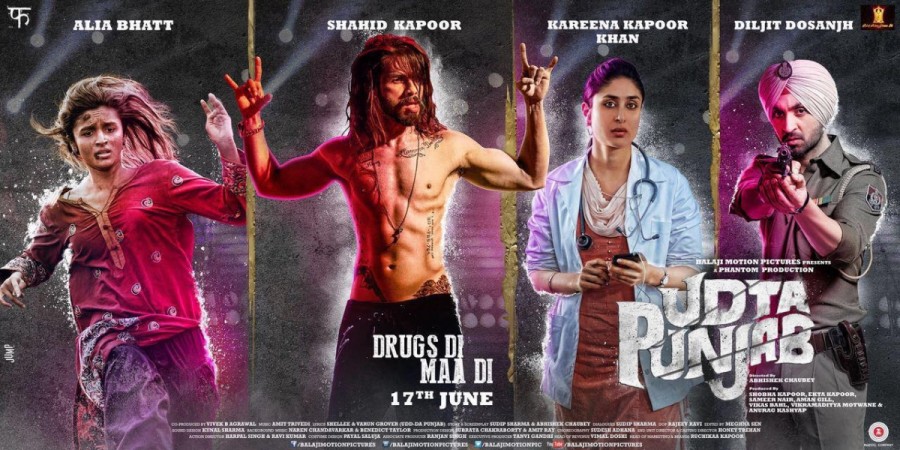 4
For a film that is called "Udta Punjab," this is one really grounded flick. In fact, it is so close to the soil that you can feel both the scum and grime in it at times! And yet, there are moments when the viewer can't help but laugh out loud and break the tension and seriousness that otherwise permeates the film.
But first, the story, sans some spoilers. We start with Sartaj (Diljit Dosanjh), a corrupt assistant sub inspector who, under the tutelage of his boss, is not above selling a part of the narcotics their team seizes, or even turning a blind eye to drug couriers, but for a fee, of course. All that changes when his younger brother Balli overdoses on one of the very drugs he had let through.
Balli ends up being treated by Dr Preet Sahni (Kareena Kapoor Khan), who herself is waging a war on drugs. She enlists Sartaj's help in combating the menace, and they begin by looking to bring down the people who made and circulated the drug Balli overdosed on.
Meanwhile, a young girl from Bihar (Alia Bhat), who is working in a field in rural Punjab, comes across a packet of heroin, and, with dreams of better times in her eyes, looks to sell it.
And finally, drug-addled singer Tommy Singh (Shahid Kapoor) is confronted by his demons in police custody when he comes to know the full extent of the effect his narco-glorifying songs has had on his so-called fans.
Udta Punjab, to its credit, has a lot going for it. Abhishek Chaubey, who had proved his directing chops right in his debut film Ishqiya, seems to be in his element almost the whole way throughout the film. Producer Anrag Kashyap's influence is writ large in the grittier sections of the film, as are the influences of Vikas Bahl in the lighter scenes, which almost seem to take place in a bubble of their own.
Amit Trivedi's music gels well with the fresh words of Varun Grover and the classics of Shiv Kumar Batalvi. In fact, "Ikk Kudi Jida Naam Mohabbat" stays with you much longer, making its presence felt like a long-burning incense stick. The accompanying video for the Diljit Dosanjh-voiced version, which is available on YouTube, gives Alia's character some more depth. Not that she needed it, though.
Alia is by far the superior of the actors in the film, overshadowing Diljit's cutely manipulative but shy-before-girls Sartaj, Shahid's demon-confronting rocker Tommy and definitely Kareena's somewhat unremarkable Dr Preet Sahni, who showed promise in the first half with some restraint, but failed to fulfil that promise. A special mention here for Tommy's Tayaji, who is a manager in probably the truest sense of the word, and might have been lost in a crowd of faces without Satish Kaushik.
And now, for some warnings. Avoid this film like the plague if you don't like foul language, are put of by brutally gory but realistic scenes, or the truth in general, as had been the case with members of the Central Board of Film Certification. A word of thanks is necessary here for the Bombay High Court bench that allowed this film to be screened with a single cut.
One only wishes that the second half of the film had some more meat to it. Another common grouse among viewers would be that the characters' accents, but sticking to the thick Punjabi and Bihari accents the characters were speaking in could have seriously hampered the film.
This film is worthy of being watched in the hall for all the nuances it displays throughout, which will otherwise be lost on a smaller screen. And don't even think you have caught all the little nods or expressions -- both visual and implied -- in the first viewing. This is one of those rare films where watching it over and over again will reveal newer aspects of it every time!