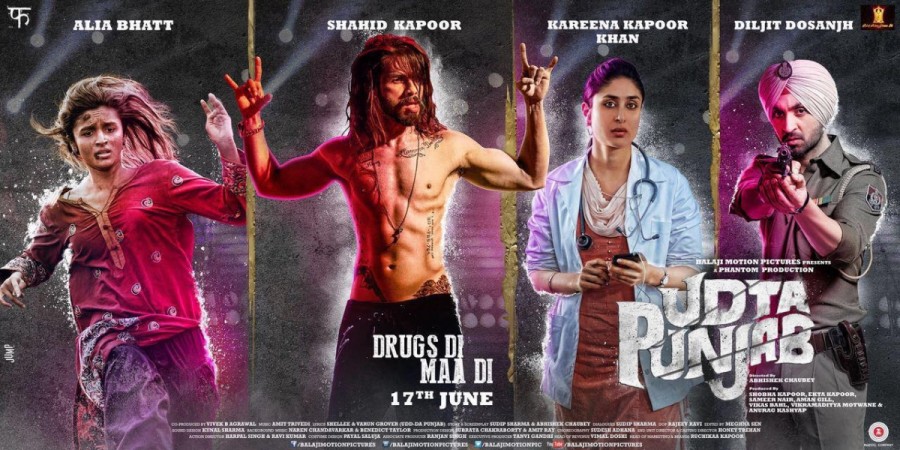 The makers of "Udta Punjab" are likely to breathe a sigh of relief as the Bombay High Court has said that apart from just one scene in the film, all other recommended cuts suggested by the censor board are not justified. In the hearing on June 10, the high court asked the Central Board of Film Certification (CBFC) to justify the cuts, which the board apparently failed to do.
In an attempt to justify the recommended cuts, CBFC argued that Anurag Kashyap's "Udta Punjab" has a lot of cuss words and vulgar scenes. Some of the objections that the CBFC raised are use of dialogue "zameen banjar toh aulaad kanjar," a dog being named "Jackie Chan," and the scene of Shahid Kapoor's character Tommy Singh urinating on public. Also the board objected the use of certain words like "MP," "Punjab," "Parliament," "Chita Ve," etc.
However, the Bombay High Court apparently is not ready to buy Pahlaj Nihalani headed CBFC's arguments and instead suggested that the current audience is smart enough to decide what they should watch.
On the other side, the filmmaker's lawyer argued that the trailer of "Udta Punjab" was passed without such cuts. He also said that other movies like "Gangs of Wasseypur," "Delhi Belly" and "Bandit Queen" had such abusive language, but were passed by the board.
Hearing arguments of both the sides, the high court said that the multiplex audience is mature enough and should have the choice to watch what they want to. Suggesting that only the scene of Tommy Singh urinating on public should be cut, the Bombay HC said that the entire controversy has been giving unnecessary publicity to the film. Verdict on the "Udta Punjab" case will be announced on June 13.
Check below the tweets about the court proceedings: