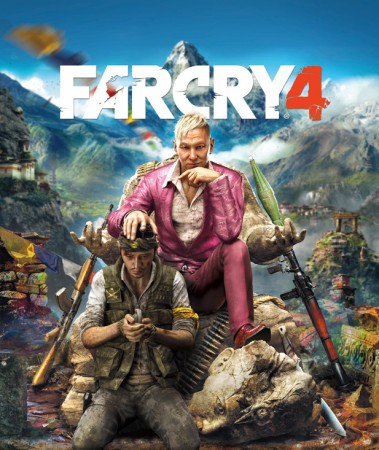 Ubisoft has announced a strong line-up for the upcoming annual gaming event E3 2014, which will take place in Los Angeles, California from 10 June to 12 June. The list includes some of the well known and much-awaited titles like Far Cry 4 and Assassin's Creed Unity.
The excitement of the event was also shared by none other than Yves Guillemot, co-founder and CEO, Ubisoft who said that the company is set to share its vision and talk about the future of gaming, in terms of how the company has embraced next-generation consoles.
"2014 is the most exciting year the gaming industry has seen in a while. At E3, we can't wait to share our vision for the future of gaming. Ubisoft teams have fully embraced this new generation and will demonstrate how they are bringing breakthrough innovations to our beloved franchises in order to offer players the most original and memorable gaming experiences," said Guillemot in an official blog post.
So what are the video games that will headline Ubisoft's E3 2014 media conference?
Assassin's Creed Unity
Far Cry 4
The Division
The Crew
Other titles
Assassin's Creed Unity- This is one of the eagerly awaited titles and Ubisoft has recently announced that it is being built to match the technological aspects of next-generation consoles and the company has previously shown alpha stage video footages. The game is set during the turbulent and violent times of the French Revolution when the battle between Templars and Assassin's reaches new heights.
Far Cry 4 – Far Cry 4 will be showcased at the E3 2014 which is now one among the most eagerly awaited titles. Though the company has let us know about the where the game is set in, there have been leaks pertaining to its protagonist. It is known that the title will jump from the success of Far Cry 3 that was set in a tropical climate to a colder one set in a fictional Himalayan region, Kyrat. This open world title will be abound with wildlife, vehicles and weapons.
The Division – After suffering numerous delays for this RPG title that is set in a crisis stricken New York where the city is in a lockdown following a bio-terror attack. Players will be playing as sleeper agents who have to deter further such attack and also neutralise enemies while working together as a team.
The Crew – This racing driving game will also be a part of the even where the game will give players huge network of roads, highways, alleys, dirt roads of U.S. so they can challenge friends or go alone to explore the roads
Other titles – Ubisoft has assured that E3 2014 will also showcase other games like Valiant Hearts: The Great War, other Ubisoft titles and will feature special guests.
Ubisoft has also announced that Aisha Tyler, actress and comedian, will be hosting their media briefing on 9 June.
Media Briefing Details
9 June - 3p.m. PDT, at the Orpheum Theatre in downtown Los Angeles. The briefing will be broadcasted live on YouTube and Twitch.
Ubisoft also announced that its Uplay Lounge will be back this year too, starting from 9 June to 12 June. The Lounge will see "hands-on gameplay with the E3 lineup and other exclusive titles, and meet-n-greets with some of the developers behind our games," the company said. The Lounge will be located at The Standard Hotel in downtown Los Angeles.
Ubisoft and Nintendo?
Ubisoft is not likely to showcase any titles meant for Nintendo Wii U or the Nintendo 3DS during E3 2014.