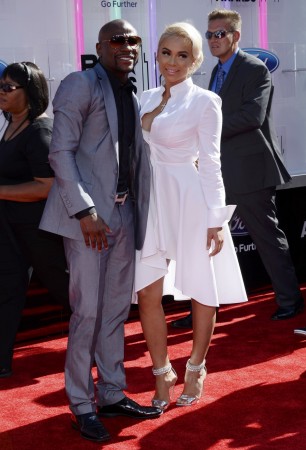 A much-awaited bout between boxers Floyd Mayweather and Manny Pacquiao may finally see the light of day in September, with the United Arab Emirates royal family bankrolling it, reported Delhi Daily Times.
Prince Amir Shafipour, a member of the UAE royal family and boxing promoter, has reportedly been in talks with the UAE government for a fight between Mayweather and Pacquiao to be staged in late 2014.
Shafipour said he was interested to see the two world's best pugilists take to the ring in Dubai. He feels the bout could go through, despite there being a rift between the camps of both boxers.
"I will honestly and truthfully tell you that if anyone can convince them to fight, and to fight in Dubai, I can," Shafipur stressed.
"I have a lot of worldwide connections, with managers, promoters, fighters, people in the business, who speak the same language that Mayweather and Pacquiao are speaking. You have to be on the same page as them and only then will you get their attention."
The royal family member is himself a three-time kickboxing champion. He is currently trying to get an influential patron in the United States to make this fight see the light of day. Pacquiao, or Pacman as he known, is currently affiliated to Top-Rank Boxing. Mayweather's promotions are managed by confidante Leonard Ellerbe.
"I am currently working with a major boxing promoter in the USA, who is connected to both the Pacquiao and Mayweather camps, and who has the capacity to help me pull this off. It's not a boast, it's a commitment."We have shown fight fans in Dubai, the UAE, what we are capable of doing with the Global Fighting Championships," Shafipour pointed out.
Boxing fans would pay a lot of money to see both these boxers pit their pugilistic skills against each other. However, a fight between these boxers have just been a rumour so far, although a bout between Mayweather and an undetermined opponent has been confirmed.
"Floyd will go on Sept. 13 and we looking at who he's going to fight and where he is going to fight. Obviously, Las Vegas is his home and the MGM Grand is always the leading candidate but we will take a look at our other options," Mayweather Promotions chief executive Leonard Ellerbe had told ESPN.
The Pacquiao camp, however, had discounted the possibility of the Filipino being Mayweather's opponent.
"Manny and Floyd should have happened a couple of years ago when both were in their prime. I think Mayweather wanted the fight then. Later when we put them on the phone together Floyd said he wanted blood testing and 60 per cent of the money, "Pacquiao's trainer Freddie Roach had told Daily Mail.
"Manny said yes to both but then we never heard back from Floyd again," he added.
The blame for not setting up this much-awaited fight has fallen on a feud between rival promoters Bob Arum (Pacquaio) and Golden Boy (Mayweather).
Bob Arum, CEO of Top Rank (a professional boxing promotion firm), rubbished reports of the fight taking place.
"I don't know who this fellow is and he's never talked to me or anybody in the Pacquiao camp. But over the years, we have met more alleged princes from Dubai than there are princes from Dubai," Arum told top Philippine TV channel ABS-CBN.