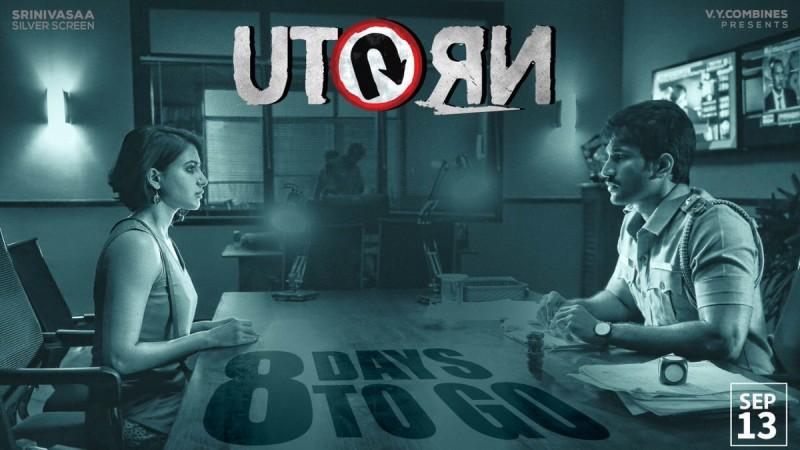 Samantha's latest movie U Turn has opened to positive reviews from the critics and audience. The brilliant story backed by fantastic performance from the cast have impressed the viewers.
Following the footsteps of Nayanthara, Samantha has taken interest to do a solo woman-centric movie and opted to remake the hit Kannada movie U Turn. It is a thriller film with a serious message on the importance of following traffic rules. U Turn movie stills.
Pawan Kumar, who wrote and directed the original, is helming the movie, which is simultaneously made in Tamil and Telugu languages. The film has Bhumika Chawla in a key role with Aadhi Pinisetty and Rahul Ravindran appearing in pivotal characters. Narain, Ravi Prakash and others are in the cast.
Poorna Chandra Tejaswi, who composed music for the Kannada version, has composed the music for the remakes as well. Niketh Bommireddy has handled the cinematography department, while Suresh Arumugam has edited the flick.
Story:
An intern played by Samantha is collecting necessary information about the accidents happening in a flyover. She is shell-shocked when she is dragged into the case of the mysterious deaths. The agony that undergoes and how she overcomes the difficult situation to solve the puzzle form the interesting part of the story.
Reviews:
The movie has a solid screenplay that keeps the viewers on the edge of their seats. Every twist and turn give goose bumps to the viewers. Samantha's extraordinary performance and background are the major highlights of the flick, say viewers.
Find out viewers' response below:
Sreedhar Pillai: #UTurn -3/5 A well made paranormal thriller with enough twists and turns. @Samanthaprabhu2 owns it, especially last 20 minutes. @pawanfilms has been faithful 2 original, but for a crucial change in the climax, which now looks better. Perfect casting @AadhiOfficial & @23_rahulr
Prashanth Rangaswamy: #UTurn - Congrats @Samanthaprabhu2 and team. What you have given is a technically superior, classy performance filled , a very neat thriller. I'm sure the general audience will have a roller coaster ride watching the movie ! . Congrats @Dhananjayang sir for the success !
Sidhu: #UTurn: Very good. An absorbing thriller that does not pay heed to any commercial compromises. @Samanthaprabhu2 delivers one of her best performances ever, and there's lots to like in @pawanfilms' work. This one's worth a shot!
Haricharan Pudipeddi: #UTurn 3.25/5. @Samanthaprabhu2 effortlessly shoulders this riveting investigative paranormal thriller, delivering cracker of a performance. Easily, her best work in recent times. A faithful remake of the original and thank god there are no needless commercial compromises.
Rohit Venkatraman: #Uturn Tamil maintains the same momentum in terms of gripping screenplay as the original Kannada version had but IMO Shraddha as the lead did better than Sam easily #UTurnTheMovie
Ab Al Latheef: #UTurn : Amazing script,
thriller,power-packed performance, fabulous direction, superb,climax twist,background score and cinematography, awesome music with lots
It's an out an out winner.
Must watch @Samanthaprabhu2 @23_rahulr @AadhiOfficial #UTurn
My Rating - ⭐⭐⭐⭐⭐
Tirumala Ganesh: #UTurn is Excellent Suspense Thriller ❤️ Lady Super Star Kummi Padesindhi
The Biggest Blockbuster In @Samanthaprabhu2 Career
Neekanna Thopu Yeawaru Learu..
Once she step in history repeats!
Congratulations my goddess @Samanthaprabhu2
You make us proud.
#ProudFan
Hrudaya Valli: @Samanthaprabhu2 done with #uturn...it starts slowly and takes off like a airplane...superb sam. guessing wt happens next is my part..all d characters has done their best ...keep rocking sam
deepu: #UTurn driven by content backed by performances @Samanthaprabhu2 u have lived up to your promise. it's a edge of seat thriller. Right after the death of that advocate every sec, minute was very interesting. Your combination scene with bhoomika has given me a Goosebumps congrats
Srikar Chagarlamudi: Yooo done with #UTurn also , this is how a thriller movie should be with lot of twists sorry #UTurn s & bgm one of the highlights there was one scene you would definitely hold ur seat tight. @Samanthaprabhu2 u nailed the character with ease Next stop #SeemaRaja
Varun Kilaru: #UTurn - Genre Bending Thriller! Pawan Kumar does not resort to cheap tricks for the sake of shocking the audience as he lays out his cards right from the first scene. However, he still manages to create a taut emotional Thriller backed by a brilliant @Samanthaprabhu2
Bharath Pandhiri: #UTurn : Twists&Twirls till the end that keeps you at edge of the seats! Climax tells you the Power of Karma! Brilliant Script&good screenplay&fantastic commitment from overall team. Congrats team @Samanthaprabhu2 @AadhiOfficial @23_rahulr #Bhoomika
Santosh: Just watched!
#UTurn is a film that keeps you at edge of your seats. Superb writing, screenplay were awesome
@Samanthaprabhu2, @AadhiOfficial, @23_rahulr, #Bhoomika garu you ppl just rocked the show
Must watch!! #UTurnBlockbuster
I can't say more cuz I just loved it anthe❤️
V: #Uturn What a engaging Thriller @Samanthaprabhu2 Nails the entire show , Twist Twist Twist Allover ! Thriller Thumps Up team Excellent screenplay throughout, Samantha You Beauty ❤️❤️❤️
Siri Sam ❤: @Samanthaprabhu2 Running out of words to describe the versatility ! #Uturn is such a big experiment from u definitely appreciate this attempt ! Outstanding remarkable spell bounding and marvellous film!everyone is praising is ur acting in the http://film.so happy for u
Kumar: #Uturn damn brilliant...excellent movie.... Superb cinematography..bgm theri..full movie with suspension and thriller....they way movie made is awesome....one of the best movie to watch.. Kick ass performance @Samanthaprabhu2 @AadhiOfficial kalakitinga.. God bless team
Sai Swaroop Bejawada: #uturn a suspense movie with breathtaking screenplay well directed and acted. Kudos to @Samanthaprabhu2, @23_rahulr and entire team. Nice twist at the final scene. A clean justification to the climax and story. Congrats team and do watch in theaters
Dheeraj reddy: Just watched #uturn thoroughly enjoyed it!! @Samanthaprabhu2 you are awesome!! Your script selection is superb All the best!!
Şûnil: @Samanthaprabhu2 #Uturn climax scene was superbbb overall movie amazing i loved samantha acting Bgm and sam cuteness ofcourse she is queen in acting thriller movie superbbbbbb proud of u one more hit
Xappie®: #Uturn raises more questions than it answers scene after scene - exactly how a thriller should be. Excellent BGM uplifts this whodunnit plot.
Jail sequence in 2nd half is the best. Goosebumps guaranteed.
Playing around the notions of moral responsibility in society & increasing irresponsibilities in general, build a whodunnit story that makes it a decent thriller. @Samanthaprabhu2 @bhumikachawlat @AadhiOfficial #UTurn
#UTurn Excellent 1st half. Definitely makes you think twice before making any unlawful U turns.
Hooks you right from the outset, without deviating from the plot, keeps you hooked to the seats.
@Samanthaprabhu2 & @AadhiOfficial are excellently fit in their roles
#UTurnOnSept13