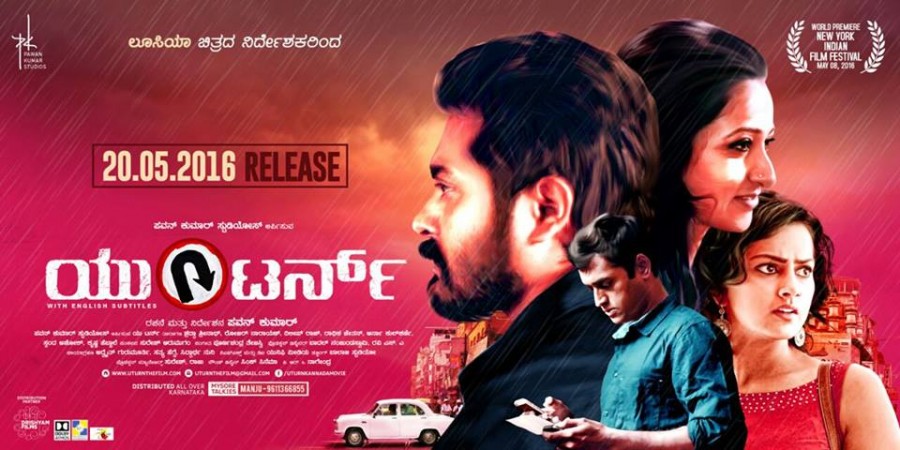 Pawan Kumar of "Lucia" fame is back with his latest venture "U Turn." It is a mystery-thriller, which hit screens on Friday, May 20. The Kannada film features Shraddha Srinath, Radhika Chetan ("RangiTaranga" fame), Dilip Raj, Roger Narayan, Skanda, Krishna, Pavan, Naveen, Pramod and others in the cast.
"U Turn," which has been made under Pawan Kumar's newly-launched banner PK Studios, has Poornachandra Tejaswi's music, Satya Hegde, Advitha Gurumurthy and Siddharth Nuni's cinematography, and Suresh's editing.
The Sandalwood film has created a lot of positive buzz around it with its trailer becoming a big hit among the audience. Hence, good expectations are riding on "U Turn."
The story of "U Turn" is about motorists, who break flyover rules. Many people remove divider bricks to take illegal u-turn and the basic theme of the film revolves around it.
Rachna (Shraddha Srinath) plays a journalist in the film. The offenders, whoever break the rules, mysteriously dies and she is dragged into a murder mystery. What happens next is the remaining part of the story.
Reviews:
"U Turn" is getting fairly positive reviews. Here, find their response to the Kannada flick:
Prasanna MR: @ShraddhaSrinath Kudos gal! U did a gud job as the protagonist. But ur director cud hav written ur character in much better way. ATB #UTurn
Just came home. Drove 22 miles to watch it. Felt a little disappointed d way movie ended. Editing, BGM cud hv been better. #UTurn @actorinme
@actorinme Watching #UTurn in @Cinemark Warren. Decent crowd here, guys frm University of Michigan n all around. #GoMakeTheUTurn Fingers ×
Cineloka: #UTurn : @radhika_chetan, #DilipRaj & #RogerNarayan Shine in their respective Roles. Good one from @actorinme Post #Lucia
#Uturn : @ShraddhaSrinath as a Journalist has done a Splendid Job. Well Composed Performance. She is here to stay for Long
#UTurn : Well Made Thriller with an Engrossing Screenplay despite Thin wafer Storyline. Top Class work by Everyone. Worth a watch 3.5/5
Prashant Mudenur: Its up to the expectation... fantastic acting @ShraddhaSrinath nd gud screenplay..enjyd watching premiere show.. #UTurn #Kannada @actorinme
After Lucia its yet another thriller try frm Pawan @actorinme ...enjoyed the premiere show #UTurnMovie
BhargaviChanrashekar: Watching #Uturn. Interval, interesting plot.
#Uturn journey was awesome Thriller genre always thrills you , this one as well Lil disappointed with the climax. Overall #mustwatch
Sanket Patil:#uturn conclusion was so horrible that it made me forget the awesome first half thrilling moments.
May be I was expecting a more subtle ending for #uturn
Shashiprasad S M: #UTurn #interval Good suspense so far. Intriguing. I only hope it's nothing to do with ghosts!!
#UTurn. Seriously! Next one on unscientific road humps! Director seems to b under d effect of #Lucia pills. A ghastly ghostly imagination!!
Sriram Karanam: Terrific movie #Uturn. Must watch. #Kannada #Bangalore
Pavan Kumar is one finest director in sandalwood
Tareque Laskar: A bit too ambitious & drawn out in the end; still a competent thriller. Should have tried to remain the noir flick it started out as #UTurn
Sandesh Mysore: @BlrCityPolice @blrcitytraffic #UTurn a good movie for u ppl to create awareness on traffic rules
#UTurn totally influenced by inseption
#UTurn starts with the residency road flyover, a u turn biggest nightmare for Bengaluru traffic police
#UTurn suspense s d key element of the film 4/5 for frst half
Mahesha: #UTurn amazing thriller Different Screenplay & BGM is topnotch of the film Climax little drags BT overall a Super thrilling film @actorinme