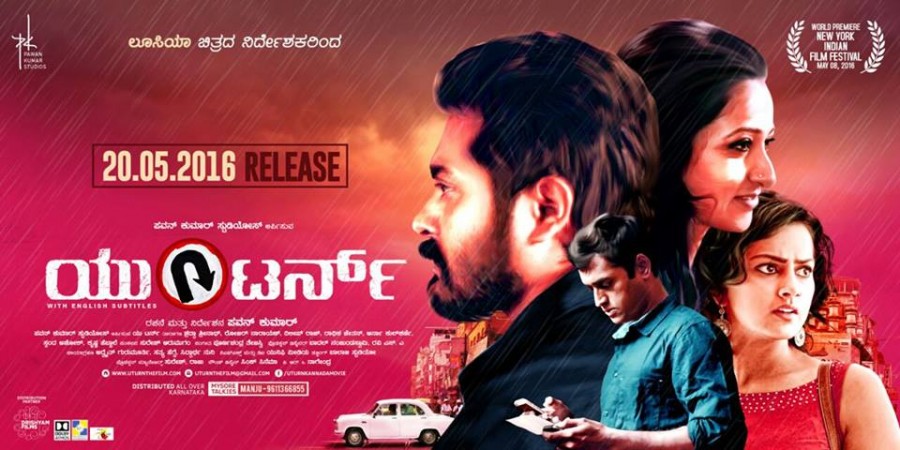 Pawan Kumar's "U Turn" has ended its third weekend at the U.S. box office on a high note. The total collection of the Kannada film stands at Rs. 32.75 lakh ($48,816) in this centre.
"U Turn" had opened in five screens on May 20. The film had faced some technical issues, leading to the cancellation of some shows in its opening weekend and collected Rs. 6.98 lakh ($10,351) in its first weekend.
However, the collections improved in its second weekend as the screen count was increased to 20. As a result, "U Turn" raked in Rs. 13.80 lakh ($20,526 ) to take its total tally in the U.S. to Rs. 23.76 lakh ($35,324) by the end of its second weekend.
Now in its third weekend, it added Rs. 8.99 lakh to take its total tally to Rs. 32.75 lakh ($48,816). The recently-released Sandalwood flick was played in three screens.
The industry experts say that it is a big achievement for a Kannada movie to earn such an amount in the U.S. as Sandalwood films are rarely released in the centre. However, Sandalwood flicks are gradually making inroads into the United States market.
Yash's "Mr and Mrs Ramachari," Upendra's "Uppi 2," Chaitanya's "Aatagara" and Puneeth Rajkumar's "Chakravyuha" are some of the films that have done notable business in the U.S. Meanwhile, "U Turn" continues to garner good reviews from celebrities. Actors Avinash, Kishore along with filmmaker Nagathihalli Chandrashekhar are the latest people to have appreciated Pawan Kumar's creation.
Earlier, many celebrities, including Samantha and Naga Chaitanya, had given thumbs up to "U Turn."
It is a mystery thriller that stars Shraddha Srinath and Dilip Raj in the lead roles. Roger Narayan, Skanda, Krishna, Pavan, Naveen, Divya, Pramod, Aarna, Kennedy and others are also part of the cast.
[1 lakh = 100,000 | 1 crore = 10 million | 100 crore = 1 billion]