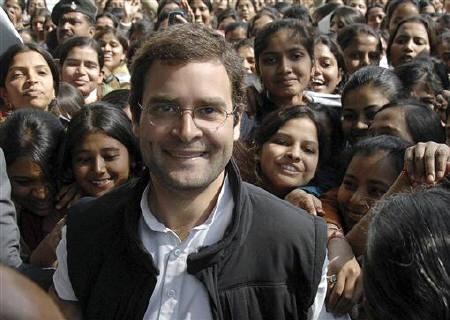 Campaigning for the first phase of elections to the Uttar Pradesh (U.P.) Assembly is due to end on Monday evening.
A total of 55 segments will go to the polls on Wednesday Feb 8. The seventh and last phase will be conducted on March 3.
Campaign trail
All India Congress Committee general secretary Rahul Gandhi said that the mission of his party is to make the state a better place to live than what it is today.
Gandhi, who is touring the state with his "Mission U.P. 2012" campaign which was launched at the time of 2009 Lok Sabha elections, also said that he would keep touring the state till Congress's mission to change U.P. is fulfilled.
Accusing the previous and present state governments, Gandhi said what is being enacted in U.P. for the last 22 years is nothing short of a crime. This needs to be changed, he added.
Speaking to reporters later, Gandhi claimed that U.P. election results will be "solid" for the Congress this time. People are now looking up to the Congress, he claimed.
Meanwhile, top political leaders in the state have lined up to make a final appeal for vote on the last day of campaigning for the first phase.
Chief Minister and Bahujan Samaj Party (BSP) chief Mayawati is scheduled to address rallies in Kushinagar and Gorakhpur later in the day.
Samajwadi Party (SP) chief Mulayam Singh Yadav and his son Akhilesh Yadav will also address public rallies.
Political parties like BSP, SP and Bharatiya Janata Party (BJP) are going it alone in the U.P. Assembly elections, while the Congress is contesting the polls in an alliance with the Rashtriya Lok Dal (RLD) led by former Union minister Ajit Singh.