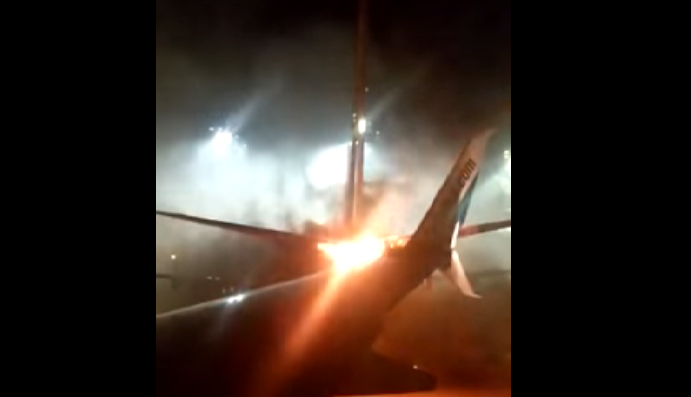 Two airliners collided on the tarmac of Toronto's Pearson International Airport on Saturday morning, causing a small fire. The passengers and crew members were swiftly moved to safety after the mishap.
Westjet Flight 2425 from Cancun, Mexico, carrying 168 passengers and six crew members had just landed in the Toronto airport when the collision happened. The tail of Sunwing plane, an empty aircraft, which was being towed back into the gate, struck the commercial flight which was stationery, media reports said.
A video shot from close range by an eyewitness went viral on social media platforms just after the incident. The video shows flames coming from one of the planes.
Soon after the mishap, Westjet passengers safely managed to slide down the emergency exit.
The Boeing 737-800 flight was reportedly waiting for to go to a gate as the other plane struck it. Emergency crew swung into action and the people on board were immediately evacuated.
Westjet responded on Twitter soon after the evacuation, "Due to the position of the aircraft on the laneway, WestJet guests required evacuation via emergency slide."
Westjet has confirmed that all the passengers and crew were evacuated safely.
When the mishap happened, Pearson Airport on their official Twitter tweeted that there was an "incident involving two aircraft" in Terminal 3 and that the emergency crew had responded.
Luckily, the Sunwing plane that was being towed by the ground handling service provider at that time had no passenger on board.
When the incident happened, the temperatures in the city were as low as -21 C, making the evacuation more difficult.
The airport had said that the operations did not have a major effect by the accident, although due to the extreme cold conditions, it was challenging.
Investigations are underway on the collision, the airport authorities said.
Although no injuries were reported from the passengers, a Toronto Pearson Fire and Emergency Service personnel was reportedly injured and had to be taken to the hospital.
One of the eyewitness Gustavo Lobo said to CBC News "It was chaos. Out of nowhere there was an audible crunch and the plane rocked slightly."
He further added, "We looked out the window and saw that the plane had backed up into us. Everyone was a little shocked and kind of chuckling at the situation."