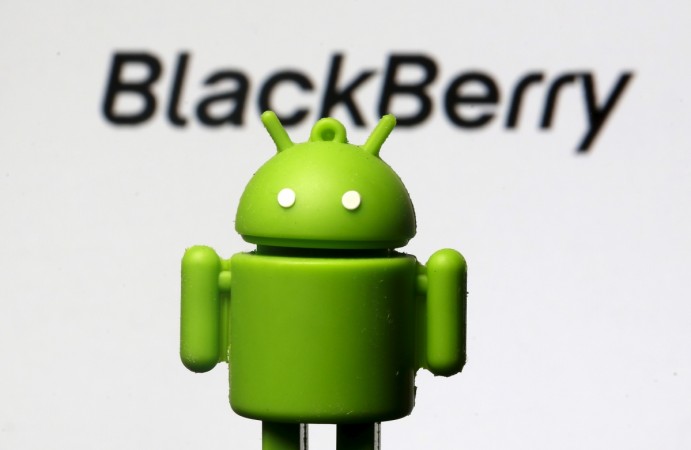 Blackberry reported $238 million of losses in the fourth quarter of FY2016 despite selling 600,000 units of its Android-powered Priv smartphones. But the company might be revamping its efforts by expanding the Android smartphone portfolio with two new devices this year, BlackBerry CEO John Chen revealed earlier this month. While details of the two handsets are scarce at the moment, photos have been leaked showing the designs of both the mid-range smartphones.
Times News UK picked up the leaked photos of the upcoming BlackBerry Android phones, internally called as "Rome" and "Hamburger," from a Chinese source 51Blackberry.com. Both the handsets have the company's latest logo and some similarities to the older models. The blurry image picked by the publication shows one handset would feature a physical QWERTY keyboard while the other one would have a full-touch display.
Nothing has been reported on the specifications of the leaked smartphones, but the one with a physical keyboard is said to be BlackBerry Rome and the full-touch one is the Hamburger. BlackBerry Rome resembles the rumoured Blackberry Vienna smartphone. It features a curved OLED display and a speaker above the display as well as below the keyboard.
BlackBerry Hamburger, on the other hand, has an entirely different look, mainly due to its full-touch display. Times News UK suggests the handset might have a hidden slider with a physical keyboard like the Priv, but there is no hint of that seen in the leaked images.
BlackBerry Hamburger has a large speaker grille at the bottom of the display, volume rocker keys on the right and the power button on the left. According to the report, the device would cost around $400 and launch sometime before June 2016. Specification details of both the handsets are not known at the moment.
There is a lot at stake for BlackBerry, which could move out of the smartphone business anytime if profits keep showing downward trend. "Since I started at the company [in November 2013] I've been saying I'll make the handset business profitable. If I can't make it profitable because the market won't let me, then I'll get out of the handset business," Chen told The National in an interview earlier this month. "I love our handset business, but we need to make money."