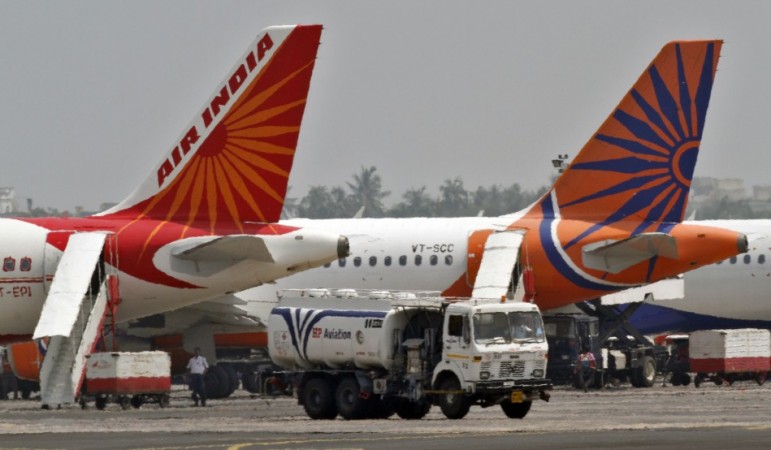 In two big scares for fliers across the country, passengers on two domestic flights, both operated by Air India, had a close shave just a day after passengers on an IndiGo flight were evacuated and left hurt after a fire scare.
In another fire scare for passengers on an aircraft, a Kochi-Delhi Air India flight had to return to Kochi immediately after take-off after there was a warning alarm of a fire in the plane's engine.
The 180 passengers on board the flight AI 047, that was operating on Airbus A-320, had a massive scare just ten seconds after take-off when there was a loud fire warning, reported The Times of India.
Captain Tejinder Singh immediately shut down the engine that was suspected to have caught fire and cut fuel supply to it, thus leaving the plane running only on one engine. Since the plane had just taken off, the pilot had to make a further climb before he could align and turn back to land. Bad weather in Kochi further added to the woes, as there were rain clouds and strong winds at the time.
However, no evacuation was initiated as in the IndiGo flight and the passengers disembarked through the normal exits, and the pilot's deft handling of the situation averted any accident.
"He (the pilot) climbed to about 3,000 feet and then returned to Kochi. The plane landed safely and he took it right to the terminal. All the passengers evacuated the aircraft completely unhurt using the normal step ladder instead of through emergency chutes that were used in Delhi a day earlier which had left many flyers injured," sources told TOI.
On the same day, there was another major scare for fliers on an Air India Dreamliner aircraft operating flight AI-020 from Delhi to Kolkata, which was forced to return to the capital after its windshield cracked while it was flying over Lucknow.
While there are several layers in an aircraft's windshield and the cracks occur mostly on the outer one, which does not affect safety of passengers, the pilots still decided to return after the incident, according to The Press Trust of India.
This is not the first such incident for the Dreamliner fleet, which has seen similar windshield cracks in other cities such as Paris, Sydney and Frankfurt.
However, for Indian fliers, the rising cases of things going wrong on domestic flights will lead to a big concern. There has been a considerable passenger growth on domestic airlines over the years.
As per the Directorate General of Civil Aviation (DGCA), 376.28 lakh passengers flew on domestic airlines during Jan-Jul 2014 as against 358.80 lakh during the corresponding period of the previous year.
This huge figure only means that many fliers will now be worried about safety if such incidents continue.