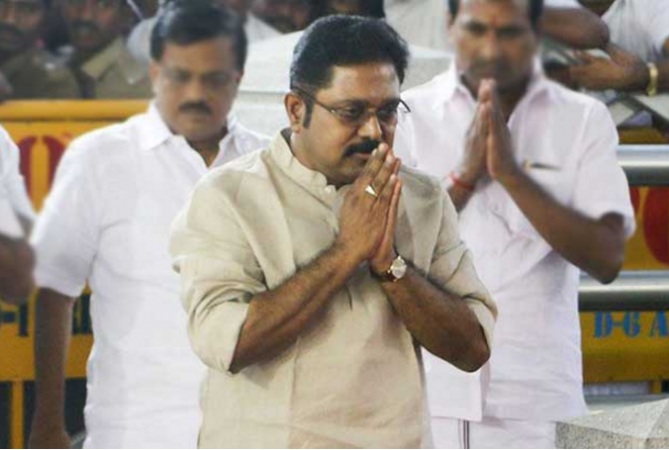 TTV Dhinakaran and his friend Mallikarjuna were arrested on late Tuesday night, five days after the former was made to step down as the deputy general secretary of the AIADMK. Dhinakaran is the nephew of AIADMK general secretary Sasikala who is currently serving a four-year sentence in a Bengaluru jail after being convicted in a disproportionate assets case.
The Delhi police arrested Dhinakaran for allegedly trying to bribe an Election Commission official to retain the 'Two Leaves' symbol of the party. The poll panel had frozen the symbol ahead of the RK Nagar bypolls in Tamil Nadu due to differences between Sasikala and former Tamil Nadu chief minister O Panneerselvam, which eventually led to a split in AIADMK. Both factions staked claim to the symbol ahead of the RK Nagar bypolls. However, the EC cancelled the bypolls following allegations of use of money to influence voters. Dhinakaran was the candidate from the Sasikala camp.
Joint commissioner of police (crime) Praveer Ranjan confirmed that Dhinakaran and Mallikarjuna have been arrested. Police sources told the Indian Express that both of them were arrested after being interrogated at length by the Delhi police on Tuesday. The police custody of Sukesh Chandrasekhar, who allegedly played middleman in the whole bribery case, was extended till April 28 on Tuesday.
The Delhi Police on Wednesday sought a seven-day police custody for Dhinakaran and told the Tis Hazari court that he would be taken to Chennai, Kochi and Bengaluru for investigation purposes. Dhinakaran has already moved a bail application. Meanwhile, a Delhi court has sent Sasikala's nephew to five-day police custody.
Sources told the daily that the former AIADMK deputy general secretary was arrested after he admitted that he knew Chandrasekhar, who had met him posing as a high court judge. "Initially, Dinakaran did not admit that he met Sukesh. But he broke down after police showed him call detail records of his phone which showed they were in constant touch. He was also shown a CD, recovered from Sukesh, which had recordings of their phone conversation," sources said.
Dhinakaran told the police during interrogation that the middleman had posed as a judge and assured him that he would file a review petition on behalf of Sasikala. However, he consistently has denied having paid any money to Chandrasekhar in an attempt to retain the 'Two Leaves' symbol for the Sasikala camp. The nephew of Sasikala was interrogated along with his personal assistant Janardhan and long-time friend Mallikarjuna.
Sasikala's banners removed from AIADMK office
Banners featuring Sasikala were removed from the AIADMK party headquarters on Wednesday morning at Panneerselvam's behest purportedly to "uphold the sanctity" of party office.
The Panneerselvam camp welcomed the move and called it a "positive step" amid the merger talks. K Swaminathan, Media coordinator of the Panneerselvam led AIADMK (Puratchi Thalaivi Amma) told Press Trust of India that "we are happy the cadres have decided to remove the banners."
Posters of #SasikalaNatarjan removed from AIADMK HQ in Chennai pic.twitter.com/RZP9OVlPzU

— ANI (@ANI_news) April 26, 2017