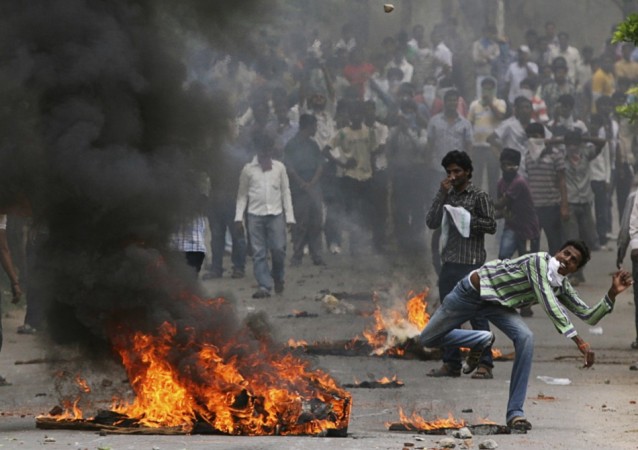 Communal riots have claimed two lives in Belgaum, Karnataka, when two groups clashed with each other on Sunday night.
Police said that the deceased have been identified as Asif Mahammod Managaonkar, 32, and Chetan Patil, 26.
Asif was killed on Sunday night, while Chetan was succumbed to injuries on Monday.
Also, Sameer Marihal, 22, who was injured seriously in the clashes, has been hospitalized with his condition is said to be critical, IBNLive reported.
Prohibitory orders, under section 144 CrPC, have been clamped in the city.
According to the police, Asif was killed when a group of 50 members attacked him. He was the resident of Chavadi Galli in the city. Meanwhile, Chetan was stabbed near the Fort area of the city by another mob.
Chetan's killing is suspected to be retaliation of Asif's killing. Chetan, a resident of Gadhingalaj in Maharashtra, was doing his medical PG in Bagalkot, after completing MBBS from Jawaharlal Nehru Medical College in Belgaum.
The riots started on Sunday evening when a group of 50, who won a tableaux competition held to commemorate the birth anniversary of Chhatrapati Shivaji, took out a procession on Vishnu Galli, by shouting slogans and bursting crackers. Residents on the street objected to the sloganeering and bursting of crackers in front of a prayer hall.
Heated arguments followed, which subsequently led to the clashes during which Asif was injured. He was declared dead at the district hospital.
Another mob stabbed Chetan, when he was going to catch a bus to his village after returning from a film show.
Police on Monday morning arrested 15 persons from a house in Vishnu Gallin in Vadgaon and seized weapons like sickles and knives. Later, another 35 were arrested from the neighbouring areas.
Following the attacks and killings, schools and colleges in Belgaum remained closed on Monday. The city wore a deserted look as the police maintained a strict vigil in sensitive areas like Vadgaon, Old Pune-Bangalore Road. Shops remained closed as the prohibitory orders were in force.