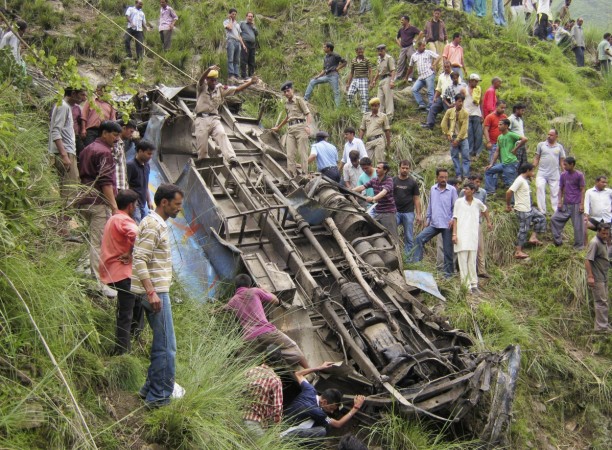 Two people, including the bus driver, were killed and 11 others were injured when a Maharashtra State Corporation bus plunged 50 feet into a gorge at Kunegaon near Khandala on Pune-Mumbai Expressway on Friday evening. The survivors claimed that the driver was earlier beaten up in Katraj for driving rashly.
Some of the injured were shifted to private hospital in Lonavala, while others were taken to Lokmanya hospital in Nigdi.
The bus carrying 16 passengers was on its way to Mumbai from Satara when the incident occurred. The bus driver, trying to overtake a tempo, lost control of the vehicle which then fell into the gorge and overturned. Driver Rajaram Shivtare, 49, and a passenger Vijay Todkari, 67, were killed in the accident.
The exact reason for the accident is still unknown, however, preliminary enquiries suggest that the driver was over-speeding and had he not gotten into a race with the tempo, the accident could have been avoided, according to police.
"From our preliminary findings, it appears that the speeding bus was overtaking a tempo on the expressway viaduct on Kunegaon bridge when it hit the tempo. The bus driver lost control and the vehicle veered off to the left off the road to hit a crash metal barrier and fell into the gorge," highway police superintendent SG Sonawane told The Times of India.
"The bus was moving at a high speed when it tried to overtake the tempo and eventually crashed into the barrier and fell into the gorge," assistant police inspector Mohan Chalke said.
The passengers, who survived in the accident, have also claimed that, since the start of their journey from Satara, the driver was driving rashly and racing with other vehicles on the way, as a consequence of which he was beaten up in Katraj.
"Just after we left Satara, he overtook a four-wheeler rather dangerously in the Khandala-Bavda tunnel. The four-wheeler almost crashed against the tunnel's side wall. The passengers in the four-wheeler were angry and chased the bus till Katraj where they intercepted it. The driver stopped the bus and there was heated exchange of words and he was beaten up," one of the injured passengers Prakash Shinde told TOI.
The place is marked as an accident-prone area as the turn on the expressway is sharp; there have been several other accidents at that spot in the past.
"The Lonavla police called us around 7 pm seeking our help in the rescue work. There is a sharp turn on the bridge at kilometre number 50. The bus fell in the 50-foot-deep valley at this spot. We know this spot very well as a few accidents have taken place here in the past when we had gone to rescue the victims," Lonavla's Shivdurg trekkers group member Sunil Gaikwad said.