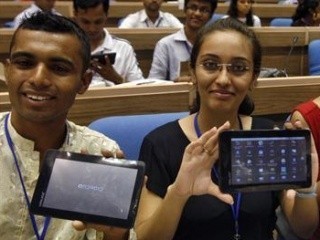 Two Indians have been listed among the top 15 education innovators list by the Forbes magazine.
Suneet Tuli, Indian origin CEO of British manufacturing and marketing company DataWind, and Anant Agarwal, professor of Electrical Engineering and Computer Science at the Massachusetts Institute of Technology (MIT) are identified as "classroom revolutionaries" by Forbes for their contribution to the education field globally.
Suneet Tuli, the brain behind India's cheapest tablet Aakash, revolutionized the education system with the Aakash tablet which gave the technology access to many students.
"Tuli is the mastermind behind the world's cheapest tablet computer, the Aakash 2, which has the potential to revolutionize educational access in the developing world," the Forbes said.
"I don't care about creating the iPad killer. I care about the 3 billion people who can afford this device," the publication quoted Tuli as saying.
DataWind is churning out the next version of Aakash tablet featuring capacitive screen, Android 4.0 operating system and a Ghz processor in its mill which is scheduled to release on November 11.Tulil's low cost tablet Aakash has been making the headlines since its launch. Recently, DataWind announced that the company is going to showcase the tablet at the United Nations (UN) in the last week of November. The CEO of the company Suneet Tuli has been given 'the innovative educator' title.
The other Indian who is among the top 15 innovators is Anant Agarwal, the President of edX, online learning initiative of MIT under the joint partnership of MIT and Harvard University. The 53-year-old Agarwal, who aspires to educate billion people, is also a computer architecture researcher.
"EdX continues to up the ante by increasing partners (Pearson has signed on), classes (seven to dozens for spring 2013) and innovations, such as virtual laboratories," Forbes added.
The 15 education innovators named in the list are the people who are on the wheel to harness the disruptive technologies for the purpose of training the next generation teachers. The founder of Khan Academy, Salman Khan, is also in the list. The 36-year-old Khan, who holds multiple degrees from MIT and Harvard, is credited for creating 3,400 tutorial videos which have 400,000 subscribers in YouTube alone.