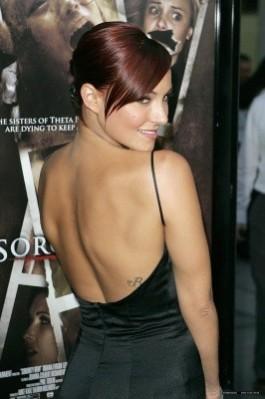 Two Hollywood hotties, Briana Evigan and Sharni Vinson, will perform with dance guru Prabhu Deva in the 3-D dance flick directed by choreographer, Remo D'Souza.
They were approached by UTV and its reported that they immediately agreed to sign on the dotted line when they heard Prabhu Deva was going to be the main lead.
"More than Prabhu Deva, the two ladies are excited about Bollywood. Now my challenge is how to make Prabhu's choreography," said Remo in a recent interview by BollywoodHungama.
Briana Evigan and Sharni Vinson starred in the dance films "Step Up 2: The Streets" (2008) and "Step Up 3D" (2010), respectively.
"My film won't be only about dancing. Remo, Ganesh and the two Hollywood girls will be dancing, of course. But there will be an emotional story that has to be told. I don't think a film can work only on the dancing and singing. By that yardstick, all Bollywood films are song-and-dance flicks. I need to take the dance film further. There are so many dance and dance reality shows already. I wanted to offer something more for the audience and I thought dance in 3D would be really exciting," says Remo.
Prabhu Deva will play the lead and Bollywood choreographer, Ganesh Acharya, has also signed up for the film.
Remo D'Souza's upcoming 3-D dance movie is said to be based on the Hollywood's hit dance drama 'Step Up' series.