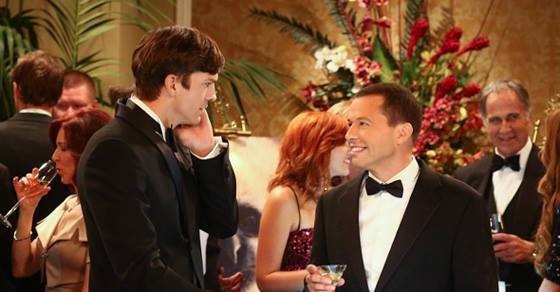 Ashton Kutcher's real-life love interest is now going to be his reel-life lover as well.
Kutcher and Mila Kunis, who have been dating for the past two years, will get an opportunity to exhibit their sizzling chemistry on television, as the petite actress is all set to guest star in "Two and a Half Men."
Kunis will play the role of Vivian, a free-spirited traveler, who lands up on the doorstep of Kutcher's character, Walden Schmidt. They have an instant connection and Walden feels she is his soul mate.
But, Walden is in a dilemma. He had earlier made up his mind to pop the question to another woman, reportedly the character played by Odette Annable.
It is not immediately known how many episodes Kunis will star in.
The upcoming episode, titled "How to Get Rid Of Alan Harper," will see Walden doubting his girlfriend and Alan embarking on a new relationship with Larry's sister, Gretchen.
This news comes shortly after Kutcher and Kunis' engagement made headlines last week.
"He wants to marry her soon and start their life together," a close pal of Kutcher's told Us Weekly. "He was planning this all along." Another added: "It won't be a long engagement."
Kutcher and Kunis were spotted on Tuesday enjoying the Los Angeles Lakers Game in Los Angeles, and Kunis was cozying up to her fiancé and flashing her engagement ring.
Kunis and Kutcher had previously acted together in "The 70s Show" for eight continuous seasons. They starred as on-again off-again high school sweethearts Kelso and Jackie on the show.
Industry insiders believe that by CBS bringing the couple together on screen, producers are hoping to garner some high rating for the show.
Meanwhile, it is not unusual for the show to feature some of its cast's real life partners or family members.
In the early days when Charlie Sheen was a part of the show, Denise Richards, his then wife, starred in two episodes of the sitcom. Richards played the role of his ex girlfriend.
Sheen's real-life father, Martin Sheen, also made a guest appearance on the show in the role of Rose's mentally-disturbed father.
"Two and a Half Men" airs Thursdays at 9 p.m. on CBS.