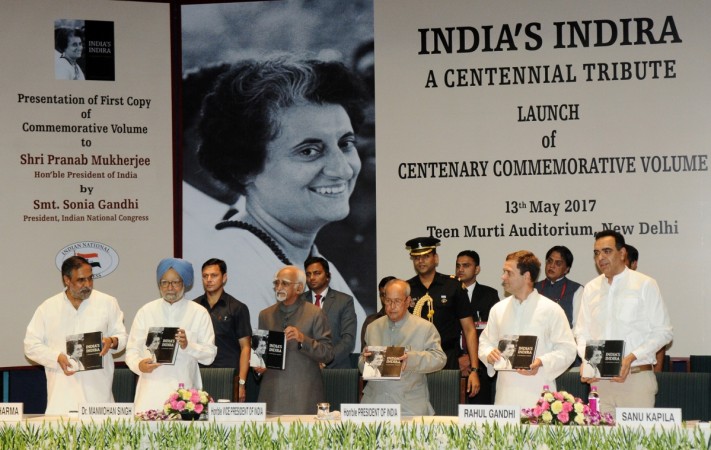 President Pranab Mukherjee on Saturday created quite a flutter in the political circles across India by claiming that former Congress chief Indira Gandhi was the "most acceptable" prime minister of India. He was speaking at the launch of the book "India's Indira: A Centennial Tribute" in New Delhi, surrounded by a bevy of Congress leaders.
Mukherjee -- himself a Congress leader before he became President -- was a close aide of Indira during her rule as Congress president and prime minister of India. In fact, many thought he would be chosen prime minister when she was assassinated in 1984 as he was the senior-most leader in the party and second in line to the top post. However, the Congress instead chose her son Rajiv Gandhi to the post.
Even otherwise, Indira Gandhi is considered one of the most divisive prime ministers of India: She plunged India into turmoil by declaring Emergency, during which time the number of political prisoners surged. Many news outlets were also gagged and persecuted because they spoke out against her policies.
She is also one of the only two prime ministers to have recommended the Bharat Ratna for themselves, the other being her father Jawaharlal Nehru. The fact that her younger son Sanjay Gandhi also wielded a lot of power, albeit unofficially [remember the forced "family planning"?], also exacerbated matters.
What the President said
Mukherjee, on the other hand, showed he had high regards for Indira. He said at Saturday's event: "Indiraji's entire life was infused with a tremendous passion for India and its people, and a deep-rooted commitment to our core values. She was filled with an intense desire to see India rise above poverty and deprivation as well as occupy a rightful place on the high table of the international comity."
He added: "Indiraji waged throughout her life a relentless war against communal and sectarian violence. She strove to successfully transcend divisive identities of caste, community, religion and creed and in the process established a direct connect with people throughout the length and breadth of India. It was this unhindered rapport that made her acceptable from Kashmir to Kanyakumari and Mizoram to Dwarka."
Twitterati disagrees
However, many people on several social media platforms chose to disagree with the President. See what they said:
Indira Gandhi inflicted so deep wounds on India, not just scars, bleeding sores still remain. Gave India small preview of today's Venezuela

— Madd Dogg (@MaddDogg8) May 14, 2017
@RashtrapatiBhvn I born in1997 so i don't know much abt indira gandhi one thing i know she imposes emergency in india and worked as a dictator for 2 yrs.

— Anirudh Singla (@anirudh66436760) May 14, 2017
Indira Gandhi colluded with Russians & three defence chiefs to kill Shastri Ji, so that she could become the prime minister

— Dhiraj Ahuja ?? (@DhirajAhuja1108) May 14, 2017
Some even got a whiff of controversy among all this!
Pranab now realises that he won't be given 2nd term by @BJP4India so praise for Indira Gandhi to get support of Congress

— K C Mishra (@mishra_kc) May 14, 2017