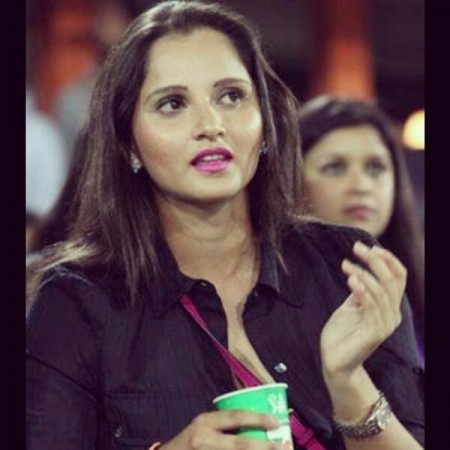 Indian tennis star Sania Mirza was targeted over her marriage to Pakistani cricketer Shoaib Mailk in a controversial remark by Telangana BJP leader K Laxman, who referred to her as the "daughter-in-law of Pakistan".
While the TRS government of the newly formed state had pitched for Mirza to be their brand ambassador, Laxman labelled Mirza the "daughter-in-law of Pakistan" and questioned her credibility to be picked as the face of Telangana.
The BJP leader even accused the government of taking the step with an eye on the minority community votes in upcoming election to the Greater Hyderabad Municipal Corporation, the Press Trust of India reported.
Laxman's narrow-minded comment drew sharp reactions, with Mirza herself condemning the "outsider" tag, saying that she will remain an Indian till the end of her life.
1. I am married to Mr. Shoaib Malik, who is from Pakistan. I am an Indian, who will remain an Indian until the end of my life.

— Sania Mirza (@MirzaSania) July 24, 2014
The Twitterati, however, came out in support of the tennis player, with the likes of Kiran Bedi and Barkha Dutt condemning the remark.
When a daughter gets married she does not disconnect her roots+.Just as a son does not!Grow up people!Sania now is pride for India&Pakistan! — Kiran Bedi (@thekiranbedi) July 24, 2014
When Sania wins she wins for India&Pakistan!The more the better. Let both countries gain from her hard work! She is an inspiration for youth

— Kiran Bedi (@thekiranbedi) July 24, 2014
Infact Telangana ought to give Sania all resources to set up a 'Sania Mirza Tennis Academy'! So that we have more Sania Mirzas for India! — Kiran Bedi (@thekiranbedi) July 24, 2014
Sexist Bigot. Gives away his mindset -always daughter in laws,never daughters? the idiot MP who calls @MirzaSania Pakistan's daughter in law

— barkha dutt (@BDUTT) July 24, 2014
You keep going ahead @MirzaSania Don't pay attention to these bigots & the venom they spew! India is proud of you! Very proud! #SaniaMirza — Mushtaq Shiekh (@shiekhspear) July 24, 2014
Was she Pakistan's daughter-in-law when she won the French Open doubles? #SaniaMirza #ShameOnBjp

— Nisham.K.A (@nisham1988) July 24, 2014
Congress MP's comments about Sania Mirza once again prove BJP n Cong r two sides of d same coin. Sick mentality!

— nikhil wagle (@waglenikhil) July 24, 2014
I'm pretty sure that Sania Mirza has done more for India than many of the BJP leaders who are opposing her — The Bad Doctor (@doctoratlarge) July 24, 2014
It is not about one Sania Mirza. It is an ideological battle that we have to fight against a sexist, communal ideological mindset.

— Priyanka Chaturvedi (@priyankac19) July 24, 2014