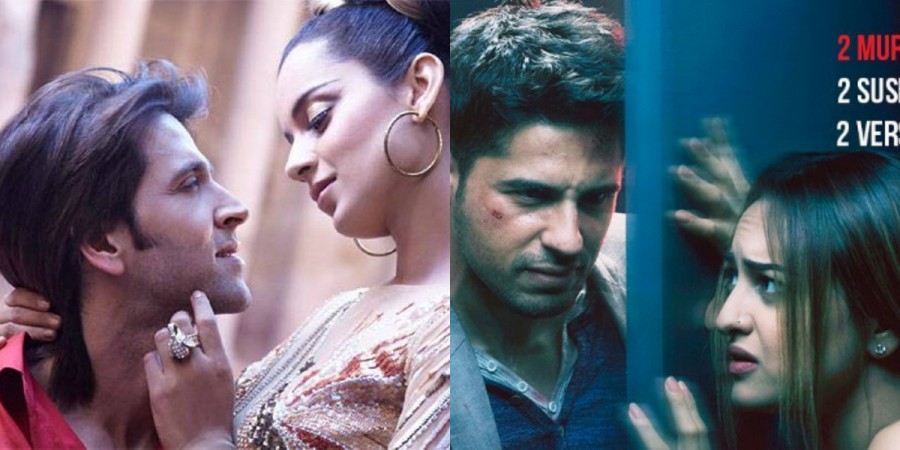 Hrithik Roshan and Kangana Ranaut -- 'His truth, her truth, the real truth.' Yes, that is the tag line of Sonakshi Sinha, Sidharth Malhotra starrer Ittefaq.
And it aptly fits on the ongoing feud between the two actors.
Did these ex-lovers just steal Ittefaq's thunder?
Hrithik Roshan's first ever statement, where he called this episode a 'dirty perverse mess,' made headlines yesterday.
While Kangana claims that she and Hrithik dated, he says that they didn't!
Who's saying the truth and who's not, we are still scratching our heads.
But Twitter has a hilarious take on this entire episode. They believe this controversy matches the plot of Ittefaq, in which Sidharth Malhotra and Sonakshi Sinha are both accused of murder, offer different versions of what happened on a single fateful night.
Check out these hilarious tweets:
*When Kangana gives an interview*

Me - Ye pakka sach bol rahi hai

*When Hrithik gives clarification*

Me - Ye bhi pakka sach bol raha hai

— SAGAR (@sagarcasm) October 5, 2017
Hrithik: Kangana harassed me.

Kangana: Hrithik harassed me.

Single londe: humein bhi kabhie harass karo, hum bhi harass hona chahte hai..

— Utkarsh Mehta (@BikaoMedia) October 6, 2017
#IttefaqTrailer is highly relatable to hritik & kangana controversy.Both have 2suspects,2versions & we kno real truth lies b/w his&her truth

— Eshwar Bhuvanagiri (@eshwar_08) October 5, 2017
Difficult to decide with the versions of both Hrithik & Kangana on the controversy. Although,one thing is confirmed - Krrish 3 was terrible!

— Keh Ke Peheno (@coolfunnytshirt) October 5, 2017
Modi had shorter explanation for GST and demonetization combined than Hrithik gave over Kangana..

— Writer Thakur (@IndianWriterV) October 5, 2017
It would have been easy to choose sides between Hrithik and Kangana, had we have known their Political affiliations.

— Jet Lee (@Vishj05) October 5, 2017
Kangana : Issi ne kiya hai ye sab.
Hrithik : Mene toh kuch kiya hi nahi.
ISIS : We take the responsibility for this.

— Memesahaab (@memesahaab) October 5, 2017
Yaar can this Hrithik-Kangana spat be dealt with privately like all our miserable ones? Pakau!

— Nupur Desai (@Nupurddesai) October 5, 2017
Started reading Hrithik's post. Starts off with "I choose to be on a path of creativity, productivity and constructive work."

Then I remembered Mohenjo Daro. And how I paid money to watch it. Now I can't read the rest of his post, because the tears are making my vision blurry.

— Akshar (@AksharPathak) October 5, 2017
To put the actor on the defensive, Rangoli shared on Twitter a photograph of Kangana and Hrithik partying together. The picture had gone viral in 2016. She fished out the photograph in response to Hrithik Roshan's claim that he had never met Kangana in private. The actor, in his first public response after the recent flare up of the controversy, had denied having any relationship with the Simran actress.
By posting the photograph of the duo partying together, Rangoli challenged the Krrish actor to prove that it was a photoshopped image.
"In your statement you said Kangana released a photoshopped picture. If u are talking about this picture we don't know who released it but what do you mean by photoshop? Is dat not u, who has grabbed Kangana's waist like a creep and smelling her neck, who seems disinterested," Rangoli asked in a series of tweets on Thursday.