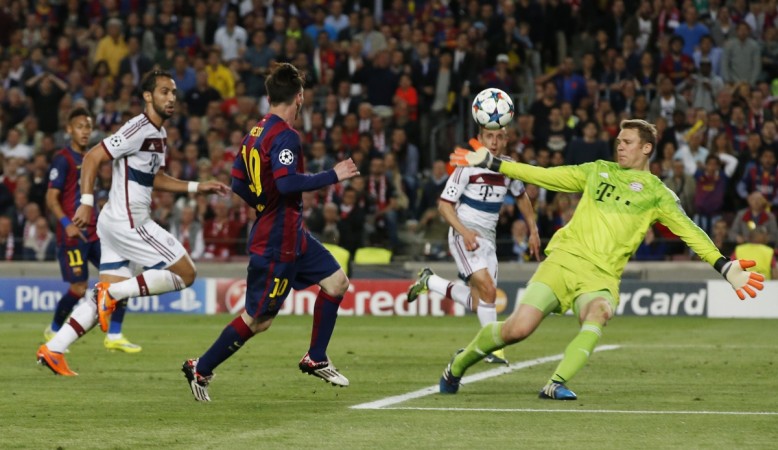 Barcelona's Lionel Messi came close to a goal in the first 45 minutes of the Champions League semi-final at Camp Nou against Bayern Munich, but was unlucky not to find the back of the net.
The Argentinean continued to showcase his skills in the second half as well, and Barca's number 10 proved why he is one of the best players on the planet with his brace in the second half. Barcelona outplayed Bayern Munich and it was Messi's skills that did them in.
Thousands of people inside the stadium were treated to Messi's masterclass performance and it will be remembered for years to come even by those fans that travelled from Germany with the hope of Bayern victory.
His second goal in the 80th minute has been the talk of the town as Messi cruised past Bayern Munich's defender Jerome Boateng with such ease and dinked one of the best goalkeepers in the world, Manuel Neuer. He made it look ridiculously simple and no other player in the planet might have made it look so easy.
Additionally, Messi's second goal might have overshadowed his first goal, which helped Barca take lead. The Argentinean unleashed a precise left foot shot from long distance in the near post to beat the German keeper. Many players might have tried the option of far post, which was an easier route to goal, but that is Messi for you.
Make no mistake, this performance of Messi has come against an elite European club. It was Messi, who outclassed Bayern Munich to come up with a night to remember for football fans worldwide.
Twitterati have lauded Messi for his performance.
Here are some interesting tweets.
Charlo tweeted – "Watching messi play is a privilege u and i are lucky to be in this generation"
Tom Hepburn posted – "I wasted a whole night at work not watching Messi. The greatest artist of the modern era, by such a ridiculous distance."
Erik Steigen wrote – "#Messi's second goal against #Bayern - truly devine. He took us to a very special place - incredible. #Barca"
Broad Street bully tweeted – "If u had a bottle beer in ur hand and watched messi last u were blessed ......what a performance"
Shola posted – "There are 2 types of people in this world. Those who think Messi is the best player in the world, and those who know nothing about football"
Mutale mukuka wrote – "Am waking up to the disbelief that some people still argue that Messi is the best player on the planet"
BChidam tweeted - "The greatness about messi is that all his dribbling is purposeful..his shots have meaning and passes are there.."