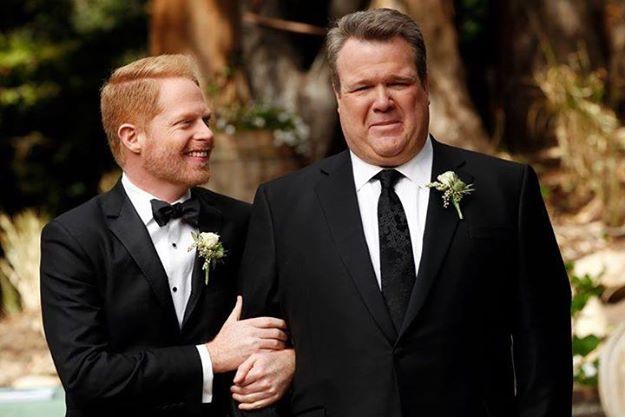 Jesse Tyler Ferguson and Eric Stonestreet, who portrays Mitchell Pritchett and Cameron Tucker in ABC's popular sitcom "Modern Family", have recently kept the Twitter followers entertained through their hilarious fight over the social media platform.
The Twitter war began with a post of Ferguson accusing Stonestreet of stealing his phone. "@ericstonestreet stole my phone again and took 112 photos of our hair & makeup department. I'm going to kill him," he tweeted.
As a reply to his onscreen husband, Stonestreet wrote, "Stole? No. You left it behind. Like u do everyday. So I borrowed it. To take a few pictures. Of steph. And kelly. And of trash."
But the war did not end up there, Ferguson tweeted another post on his wall with some pictures, "Eric!!!! Again?!!!! This time, 89 photos of Prop Master Steve Miller", for which, Stonestreet replied, "ITS NOT MY FAULT! ITS YOUR FAULT."
Meanwhile, the interesting Twitter war between the onscreen couple has tickled many "Modern Family" fans on the social media platform, like Steysiklayr, who tweeted, "hahaha...this is the kind of tweets I look forward to. Thanks for sharing."
Whereas, Anna was of the opinion that the comical fight between the celebs was very childish as she wrote, "Looks like my camera roll after my 9yr old niece gets a hold of my phone!"
Brandon Jones also agreed with her by tweeting, "hahaha! The kids I coach in swimming do this to any phone they see lying around. I've deleted 150 selfies!"
On the other hand, some of the Twitter followers of Ferguson were curious to know about his phone. The keen tweets ranged from, "how does he keep getting your phone?" to "you gotta get your phone back Jesse."
The onscreen gay couple Jesse Tyler Ferguson and Eric Stonestreet have always been the fan-favourites through their stunning performance in "Modern Family."