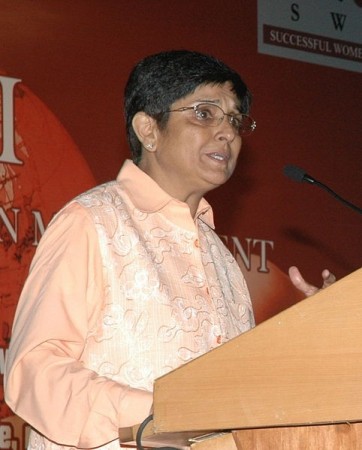 Continuing the string of jokes that target a particular public figure and make fun about them, twitter has now caught hold of a person who has lately been a personality many would agree is almost synonymous to social media.
Right from displaying a thick thesaurus in the television to openly castigating Arvind Kejriwal for his actions, former police officer Kiran Bedi has lately been appearing more than a few times in the public domain supporting Narendra Modi as an able PM candidate and criticizing Kejriwal as an 'Anarchist'.
But almost all of the twitter users who have started tweeting with the new cheeky hastag, #YoBediSoJealous feel that she has been seen getting increasingly jealous about Arvind Kejriwal.
She was vocal over the days on how the word 'anarchist' exactly fits Arvind Kejriwal's description. Reading the meaning of the word 'anarchist' from a thick thesaurus in a television channel was seen to be a funny moment, considered worth making fun of.
Now, it can't be said with certainty if she indeed is jealous of the Delhi CM, but it's worth having a look at the top twenty jokes about her that are trending on Twitter:
"@sand1303: @Riczb the only meaning from thesaurus which Kiran bedi did not explain for anarchy was revolutionary" #YoBediSoJealous

— AAP Activists' Group (@JoinAAP) January 23, 2014
#YoBediSoJealous she tore 'A' and 'K' alphabets of a kid's book! — deepak pande (@deepakpande77) January 23, 2014
EPIC! "@manish_leo : #YoBediSoJealous That she think that statue found in Hadappa is actually Modi Avatar ..!!! pic.twitter.com/yHYOdl8bRZ"

— Richa Bhardwaj (@Riczb) January 23, 2014
#YoBediSoJealous that she carries a Thesaurus to prove fellow panelists wrong ! — Richa Bhardwaj (@Riczb) January 23, 2014
#YoBediSoJealous that she will change her surname to modi

— KEJRIWAL/#AAP FANS (@aap_103) January 23, 2014
#YoBediSoJealous that she has started greeting everyone as Tum, and not #AAP — iThink (@_common_man) January 23, 2014
#YoBediSoJealous She sounds fishy she smells fishy and looks fishy

— Chet Yadav (@Ch8_y) January 23, 2014
#YoBediSoJealous that she runs exchange program - brand new vaccum cleaner for any used broom. — gaurav choudhury (@Vfrnds) January 23, 2014
#YoBediSoJealous That she started chanting #Modi chalisa in morning prayer..!!!

— I am YEDA (@manish_leo) January 23, 2014
#YoBediSoJealous that she beat her maid for sweeping the floor using a Broom — AAP ka Arif (@makitsmile) January 23, 2014
#YoBediSoJealous that it's been months since she broomed her house.

— gaurav choudhury (@Vfrnds) January 23, 2014
@makitsmile @thekiranbedi #YoBediSoJealous that she is boiling potatos on her head.. — PLKM (@khushumilu) January 23, 2014
#YoBediSoJealous of AAP electricity subsidiary, she is now lighting bulb from her Jealousy

— Nitesh Seth (@nitesh_seth) January 23, 2014
#YoBediSoJealous that she declared Arvindji a terrorist bcoz he had AK as his initials! — Babita Ghale Surong (@babstweetz) January 23, 2014
#YoBediSoJealous that her rants against AAP make 5 year old kids look more mature & wise

— Rose (@whiterose02_wr) January 23, 2014
#YoBediSoJealous asks StarSports to stop showing Cricket because its distracting from NaMo speeches. — Karthik S (@kartik9) January 23, 2014
@makitsmile @kapsology #YoBediSoJealous that if she was Alok Nath's daughter uska kanyadaan haste hue karte...

— Pushkal kumar Pandey (@patriotismsdead) January 23, 2014
#YoBediSoJealous that if her maid not come on time she abuses AK — saajan (@sajank7019) January 23, 2014
#YoBediSoJealous she says that raja harishchandra ki ek hi oulad hia Modi...!

— MANISH GUPTA (@AAPRevolutionCG) January 23, 2014
#YoBediSoJealous and fuming about Arvind's success, she wants to form her own party - Aag Admi Party... — Rahul Pateliya (@rahulpateliya) January 23, 2014
#YoBediSoJealous If NaMo says calendar should have 33 days in a month she will support that claiming it as a NaMo development model.

— Rahul Jain (@rahuljaingarg) January 23, 2014