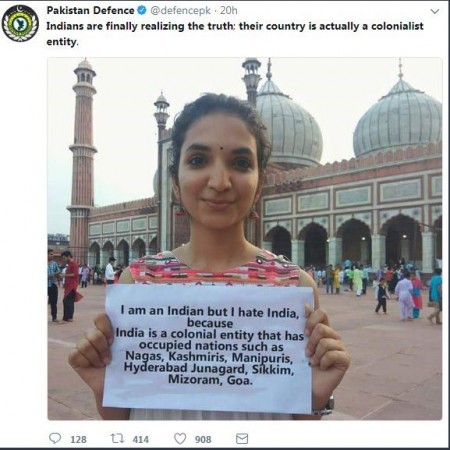 Twitter on Saturday suspended the account of Pakistan Defence, dedicated to the nation's military affairs, after it posted a picture of an Indian girl holding a morphed placard which read: ''I am an Indian but I hate India, because India is a colonial entity that has occupied nations such as Nagas, Kashmiris, Manipuris, Hyderabad Junagard, Sikkim, Mizoram, Goa. [sic]"
The picture was clearly photoshopped as the actual picture posted by the Indian girl — subsequently identified as Kawalpreet Kaur — showed her standing in front of the Jamia Masjid in Dehli holding a different placard.
Her placard read: "I am a citizen of India and I stand with secular values of our constitution. I will write against communal mob lynching of Muslims in our country. #CitizensAgainst Mob Lynching. [sic]"
The Twitter account of Pakistan Defence usually posts content associated with Pakistan Army. However, the Army has not yet declared this handle its official Twitter account.
Pakistan Defence, although, claims to be the "one-stop resource for Pakistan defence, strategic affairs, security issues, world defence and military affairs."
Soon after the morphed picture was posted, it was spotted by many Indians who pointed out that the picture was a doctored version of the one shared by Kaur — a Delhi University student.
Pakistan Defence deleted the tweet later. However Twitter suspended the account after receiving various complaints about the picture. It remains suspended as of Sunday, November 19.