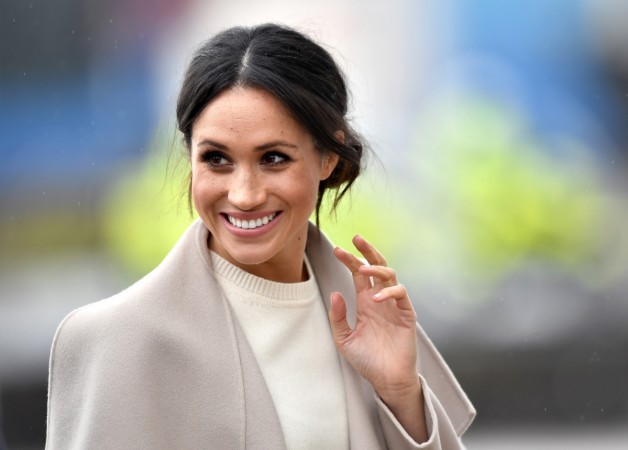 Meghan Markle, the Duchess of Sussex, has been attending a lot of social events and interacting with the Royal fans since marrying Prince Harry in May.
Earlier this summer, during one of her public appearances, a video of Meghan interacting with a fan had gone viral. Her 'British accent' was clearly heard in the video as she interacted with fans in Cheshire, England. Now, yet another video of the royal is being targeted at.
Recently, a short clip from Queen Elizabeth II's documentary, called Queen of the World, was released in which Meghan got to see her wedding dress by Givenchy after months of marriage with Prince Harry.
In the video, she says, " Oh my goodness, it's amazing, isn't it?" as she beamed with happiness looking at her dress. "The work that they did here is just so beautiful."
"Somewhere in here, there's a piece of, did you see? The piece of blue fabric that's stitched inside?" she asks. "It was my something blue...it's fabric from the dress that I wore on our first date," she said.
After watching this video, Twitter users feel that the former Suits actress is losing her American accent because of the change in lifestyle. Whereas a few others disagree with these claims.
Here's what the internet users had to say about it;
People going on about Meghan Markle losing her accent in Queen of the World documentary. Who can blame her really? Even the normally chilled out Brits are like 'ugh, Americans' at the moment. I'de be practicing my p's and q's also, if I was her..

— *~ReBeCcA~* (@becsscott) September 26, 2018
'Some people think Meghan Markle is developing a British accent'
Good luck to her. We Brits have been developing it for a while now, and we *still* can't narrow it down to one single accent.

— Mark Granger (@Mark_Granger_) September 27, 2018
My sister has lived in London for 3.5 years and does not have an accent yet; Meghan Markle has lived there full time for less than 6 months and supposedly has an accent. pic.twitter.com/fqdw2fRsqj

— Bec (@b_mb1993) September 26, 2018
To the people saying that #MeghanMarkle has lost her American accent & now sounds British...
As someone from neither Britain or America, and hears both accents very well, I can quite honestly tell you she stills sounds completely American. No British accent there at all. The end

— Claire.. ? (@ClaireN96) September 27, 2018