Japan has given the world a long list of bizarre products, including a black burger with black charcoal cheese, squid ink sauce and a condom cookbook, and now the country has given the chicken-lovers a brand new set of products: 3D chicken goodies.
As part of the Colonel's Day campaign, which is a celebration of the birth of the company's late founder, Colonel Sanders, KFC has been giving away products inspired by their popular "finger lickin' good" chicken. Some of their unique products include "KFC Original Keyboard," "Chicken-Type Mice" and "Chicken Shaped USB Card" and "Chicken-type iPhone5 Case".
There are even chicken leg Ostrich Pillow-like headwear for comfy napping, called ne-Makura that promises the "best comfort".
「チキン型寝枕」は寝心地も最高です♪ (*´▽`*) ☆思わずヨダレの3Dチキングッズ第2弾⇒http://t.co/l5YrQmo6JV pic.twitter.com/QrzbMDkeNX

— ケンタッキーフライドチキン (@KFC_jp) September 22, 2014
In the campaign page, a drumstick-shaped USB drive, a drumstick computer mouse, drumstick dangle earrings and a keyboard that's adorned with various pieces of chicken instead of letters (except the letters K, F, and C, of course) can also be seen.
In the contest, the contestants have to send a maximum number of non-repetitive tweets with the tag #KFCKernel'sDay, based on which one person would win the KFC original keyboard, one would win chicken-type mice, one chicken-shaped USB drive, one chicken-type Ne-makura, one would win chicken-type iPhone5 case and 47 people would get chicken earrings.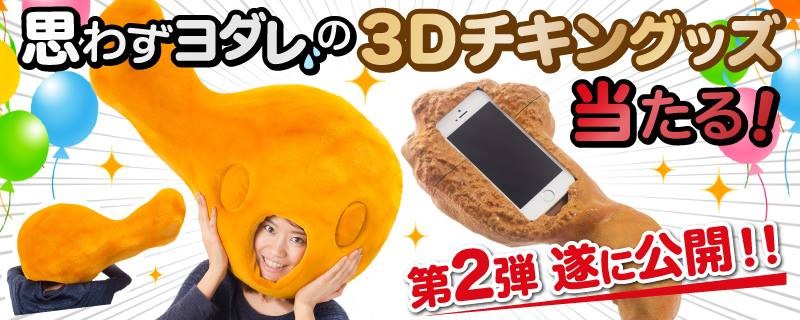 The Twitteratti as always is much excited about Japan's latest wacky products and are mostly happy that the unique chicken mobile cases would solve iPhone's apparent bending problem.
Alberto Nardelli tweeted, "Courtesy of KFC Japan, this SHOULD stop the iPhone from bending".
TJ Manotok, though unsure about the case, was quite taken by the drumstick pillow: "I'm not sure if I Want the Case, but I'm sure I Want That Pillow! Anyone coming from Japan ? I'll pay you back! :)"

Celebrity blogger Perez Hilton was quick to comment on these bizarre products with the tweet, "# KFC made ​​a bunch of fried Chicken-themed Products you Never Knew you needed!"
There were of course a few who weren't appeased by the chicken-themed products either.
Worst keyboard ever: KFC-themed keyboard hits Japan. http://t.co/q2I6dx5orw pic.twitter.com/JkkSufIa23

— Mike Elgan (@MikeElgan) September 5, 2014