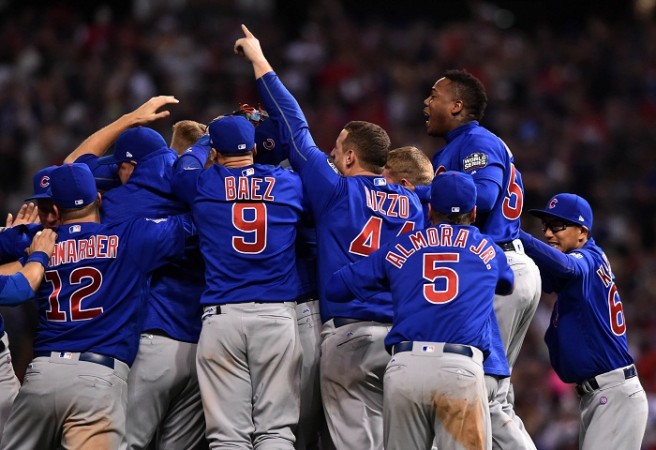 Quality teams, irrespective of the sports, are characterised by how they comeback when the chips are down. The situation was such for Chicago Cubs in the World Series after going 1-3 down to Cleveland Indians in the best-of-seven contests. But, the Cubs were not giving up easily, and they sparked a spirited comeback to win the title after winning the last three matches to script an incredible title win on Wednesday night.
The Cubs defeated the Indians 8-7 in a thrilling Game 7, where the fans were on the edge of their seats as well. Neutral fans, watching on their tele screens as well, might have rooted for Cubs, who defied odds to come from 1-3 down to level it at 3-3.
The Cubs looked quite comfortable early on as they ran into a lead of 6-3. But the Indians, who were brilliant in the series in the first four matches, were not going to give up that easily and the game became much closer after two home runs and a double, which tied the game, making the game even more interesting.
The game was disturbed by the pouring rain, which halted the game for 17 minutes. This pause in the contest gave the Cubs players extra time to think about the 108-year period during which they have not won the World Series title, which must have inspired them push for victory.
After the break, they looked an even more determined team to clinch the title. They did so with the final score reading 8-7 as well.
Here is how people reacted in Twitter to Cubs' incredible victory.
YEEEEESSSSSS!!!!! Congrats to the great people of the great city I love SO much... CHICAGO! @Cubs ARE WORLD CHAMPS!

— Greg Grunberg (@greggrunberg) November 3, 2016
If u real one you always #bounceback! Congrats to the Chicago @Cubs on pulling that off, glad I got to witness game 5 in person ??

— Sean Don (@BigSean) November 3, 2016
The last time the Chicago Cubs won the World Series, Real Estate developer Donald Trump was running for President of the USA.

— Neil deGrasse Tyson (@neiltyson) November 3, 2016