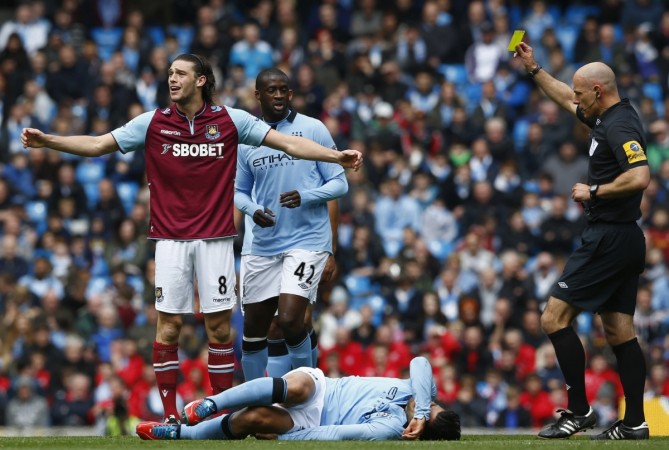 Social media maniacs responded quickly as soon as the news about Howard Webb's retirement from refereeing broke. Internet has been flooding with various kinds of sarcastic posts about the 43-year-old since then.
Webb announced his retirement as a referee on Wednesday, to join as a technical director of the Professional Game Match Officials Limited. He would put down his whistle, ending a 25-year-career as a professional referee. The Englishman will now be responsible for overseeing the technical direction that governs the on-field performances of PGMOL match officials.
Webb was one of the most popular referees in the game. He refereed more than 500 Barclays Premier League and Football League matches. He was also involved in two World Cups, two European Championships and the Champions League. His career reached its peak in 2010, when he became the first referee to officiate the Champions League final and the World Cup final the same year.
However, Webb has always been accused of favouritism towards Manchester United, following some of his decisions in the Premier League games. Some believe he is a secret United fan.
Meanwhile, many respectful reflections on his career began trending with the hashtag #HowardWebb on Twitter. While some gave their tribute to the Englishman's career, others posted sarcastic memes.
Here are some of the viral posts on social media after Webb's retirement announcement.
Another high profile departure from Old Trafford announced as Howard Webb retires from refereeing.

— Paddy Power (@paddypower) August 6, 2014
The new statue outside Old Trafford #MUFC #HowardWebb pic.twitter.com/UOtGYgltfH

— Pie Sports Booze (@piesportsbooze) August 6, 2014
Manchester United legend Howard Webb has retired as a match referee . pic.twitter.com/C9nwrDFOUp

— Troll Football (@Troll__Football) August 6, 2014
Louis Van Gaal has decided not to renew the contract of Howard Webb, who has now retired after 11 years at the club. #MUFC

— Coral (@Coral) August 6, 2014
So Howard Webb announces retirement so that he can spend more time with the family... pic.twitter.com/LIvbAjNxlC

— LADexperience (@LADexperience) August 6, 2014
BREAKING: Manchester United honour club legend Howard Webb after his retirement from football. pic.twitter.com/aq0T8b54rC

— Football Funnys (@FootballFunnys) August 6, 2014
Meanwhile, United's archrivals Manchester City bid a sarcastic goodbye, taking out their personal frustrations against Webb.
GOOD LUCK: All at #MCFC wish Howard Webb the best in his new role after bringing an end to 25 years of officiating. pic.twitter.com/dW0RSBIiaW

— Manchester City FC (@MCFC) August 6, 2014
The photo showed the 2006 FA Cup quarterfinal between Stuart Pearce's City and Alan Pardew's West Ham United at Eastlands, where Webb dismissed Sun Jihai for allegedly swinging an arm at Matthew Etherington. The Blues felt that the decision was too harsh.
And after eight years, Webb's retirement gave them an opportunity to show their grudge once again in public.