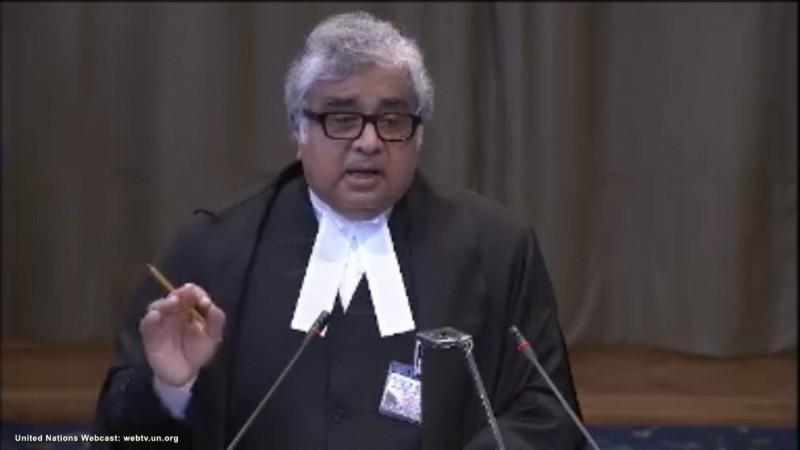 Senior advocate Harish Salve, who represented Kulbhushan Jadhav at the International Court of Justice (ICJ) in the Hague, charged only Re 1 as his fee to fight the case, External Affairs Minister Sushma Swaraj revealed on Monday.
"Not fair. Harish Salve has charged us Re 1 as his fee for this case," Swaraj tweeted in response to a tweet by someone named Sanjeev Goyal. The man had tweeted saying any good lawyer in India would have fought Jadhav's case at the ICJ at a much lesser fee than what Salve must have charged.
Not fair. #HarishSalve has charged us Rs.1/- as his fee for this case. https://t.co/Eyl3vQScrs

— Sushma Swaraj (@SushmaSwaraj) May 15, 2017
Goyal's tweet seems to upset Twitter users, who lashed out at him on the social networking platform. Here are some of the reactions:
@SushmaSwaraj @goyalsanjeev I think u painted everybody with the same brush & u got the answer . Wld Congress lawyers worked with/o money incl Jethmalani? — ProudIndian1 (@Indian1Proud) May 15, 2017
@goyalsanjeev @Indian1Proud @SushmaSwaraj .For the same reason you don't try an untested parachute for the first time when you go sky diving. This is abt saving a life.

— Meninazi (@I_Run_E) May 15, 2017
@SushmaSwaraj Ma'am inn tuchiyon ko bina matlab kyun jawab dete ho aap? — Antique Chhori (@AntiqueChhori) May 15, 2017
@SushmaSwaraj These people are not worth answering, they have this habit of not being satisfied at any cost

— (Dolli) (@desh_bhkt) May 15, 2017
@SushmaSwaraj Your clarification has given #OneTightSlap to those outraging without reason which off late has bcome fashionable Thank you ma'am! God Bless — India First (@SeCoolar_Right) May 15, 2017
@SushmaSwaraj Some people can only give Gyan &can't appreciate the brilliant work by #HarishSalve .He has a heart of gold & an incredible human being.

— Shweta #GiveUpAMeal (@SwetaSinghSinha) May 15, 2017
@SushmaSwaraj Unfortunately India has enough stupids like Sanjeev Goyal — Balbir Singh (@balbir59) May 15, 2017
Goyal later tweeted, thanking Swaraj for the "clarification".
@SushmaSwaraj Thanks for the clarification madam. Good to know he is not charging his usual fees, in this case.

— #Intolerant भारतीय (@goyalsanjeev) May 15, 2017