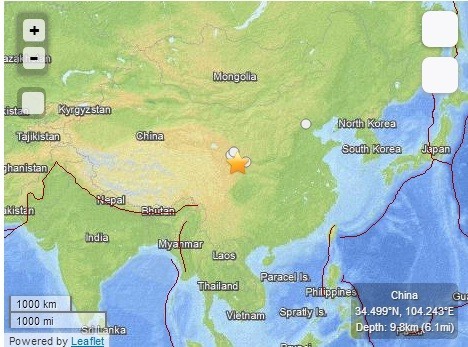 Twin shallow earthquakes rocked the Gansu province in western China on Monday morning, killing at least 47 and injuring more than 290, according to reports.
The initial quake hit the mountainous region near the Dingxi city at 7.45 am with a 5.9 magnitude at a depth of just 9.8 kilometres, according to the US Geological Survey.
At 9.12 am, the same region experienced a second 5.6 magnitude tremor and was approximately 10 kilometres deep, the USGS said. Dingxi is about 766 miles west of Beijing.
"More than 21,000 buildings were severely damaged and more than 1,200 have collapsed," an official told AFP at the earthquake bureau in Gansu.
Tremors were felt as far as 400 kilometres from the epicentre in Dingxi. The cities of Xi'an, Baoji and Xianyang in neighbouring Shaanxi Province also experienced the quake. Communication in 13 towns of Zhangxian County was cut off, the department told news agency Xinhua.
The civil affairs department has already deployed 300 soldiers and police personal with 500 tents and 2,000 quilts, Xinhua reported. Even the National Committee for Disaster Reduction and Earthquake Administration of China has initiated their emergency plan and have sent their teams to the quake zone.
Local railway authorities have begun to check railway bridges and communication towers in the province.
The country had last experienced a devastating earthquake in 2008 when a 7.9 magnitude struck Sichuan province. At least 90,000 people were dead or reported missing.