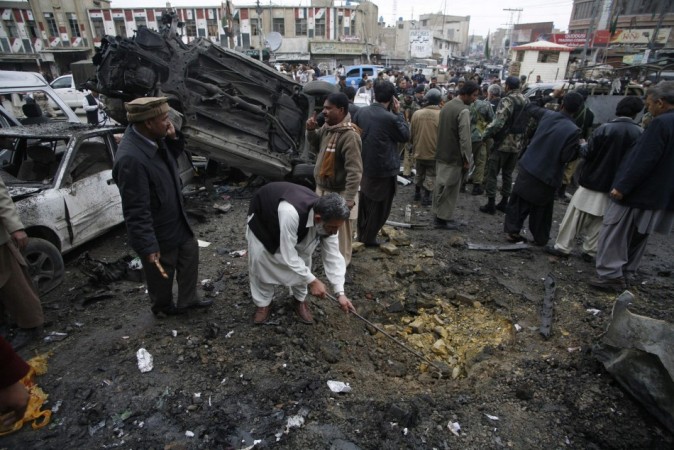 Fourteen people were killed and over 60 injured in suicide attacks by Taliban bombers on two Catholic churches in Lahore on Sunday.
Both the churches are located in the predominantly Christian neighbourhood of Lahore's Youhanabad area. A Punjab police spokesperson told Al Jazeera that both the bomb blasts were carried out by suicide bombers.
Pakistani Taliban (TTP) splinter group Jamatul Ahrar claimed responsibility for the attacks on both Churches.
Local reports claim that among those killed were a policeman and a private security guard, who reportedly engaged the suicide bombers and stopped the attackers from entering the church.
A senior police official in Lahore, Haider Ashraf told FoxNews that the explosions occurred in quick succession while the services were being held inside the church.
Following the blasts, a young man, who allegedly was involved in one of the attacks, was lynched and burned alive by an enraged mob, local newspaper Dawn reported.
Youhanabad has the highest concentration of local Christian population. In the past too, the local Christian community in Pakistan has been targeted by armed terror groups and have been victims of similar hate crimes.
10 dead, 50 injured in Pakistan blast http://t.co/SCD5igCWwO pic.twitter.com/sS7ceoHqEf

— RTÉ News (@rtenews) March 15, 2015
Dr Muhammed Saeed Sohbin, medical superintendent at Lahore General Hospital told CNN that more than 40 people have been wounded in the blast.
http://t.co/WWVtbU0URj LeMonde.fr: Pakistan : double attentat dans un quartier chrétien de Lahore pic.twitter.com/6Cbv9YgaQP — Cyber-Actu (@CyberActualite) March 15, 2015