Within 24 hours after twin blasts in the Narwal area of Jammu city, a special team of the National Investigation Agency (NIA) on Sunday visited the spot along with officers of Jammu and Kashmir Police. The sleuths of NIA inspected the site of the twin blasts and collected some samples.
Although the investigation of Saturday's twin blasts is yet to be handed over to the NIA, a special team was deputed to inspect the scene and collect some samples from the spot.
Reports said that for an hour, the NIA team inspected the spot and adjoining areas and collected some samples including some splinters.
Senior officers of the Indian Army also visited the area for inspection on the second day. The area is still under a security cordon and a massive sanitization operation is underway.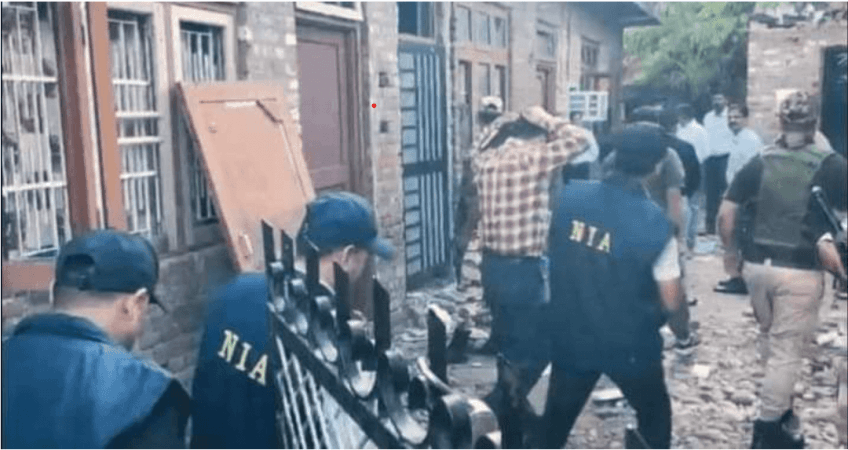 Within minutes after two back-to-back blasts on Saturday morning, an FSL team collected the vital evidence from the blast sites for establishing the kind of blast. However, the Police are yet to ascertain the kind of blast in Narwal.
Police suspect that improvised explosive devices were used to carry out the twin explosions in an SUV parked in a repair shop and a vehicle at a nearby junkyard in the Transport Nagar area of the Narwal.
Nine injured in twin blasts in Jammu's Narwal area
Nine persons were injured, one of them critically, in two back-to-back blasts at Jammu's Narwal area, about 1km from Jammu-Srinagar national highway.
The explosions, which security agencies suspect were carried out through sticky bombs planted on two cars, took place amid Congress leader Rahul Gandhi's Bharat Jodo Yatra and five days ahead of Republic Day celebrations.

The first blast took place under a parked Bolero SUV at a junkyard at Transport Nagar at 11 am leading to panic among the locals. As workers and other people rushed for safety and police teams started reaching the site, a similar blast rocked the area exactly 20 minutes after the first one.
Reports said that two similar bombs were planted under the vehicles and it is believed that they were detonated with time devices.
One of the victims has undergone surgery for the splinter injuries he sustained in his stomach. He has been identified as Arjun Kumar, 28, of Qasim Nagar, whose condition is critical. The doctor said other victims have suffered minor injuries and are being tended to by psychiatrists for post-traumatic stress disorder.