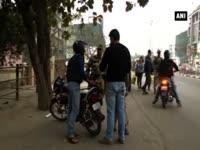 Two low-intensity bombs exploded in upper Assam's oil town Digboi, in Tinsukia district, on Monday.
This untoward incident took place when the nation was celebrating its 66th Republic Day.
As per PTI reports, Senior Superintendent of Police AP Tiwari informed that the explosion had no impact on life or property till now.
Of the two blasts, one took place near a railway track under dumped garbage while the other occured in the garbage under the drain.
The nature of the blasts suggest that the bombs were made of handmade explosives as they did not have much impact. However, investigations related to the explosions are on.
Assam was on high alert after the Union Home Ministry warned of possible terror attacks ahead of the Republic day celebrations.