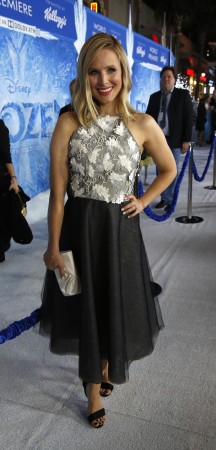 Everyone who watches TV has been confronted with a sense of incomprehensible injustice, when that one show you loved went the way of the dinosaurs.
A show can have all the right ingredients - established producers, successful network, intelligent scripts, popular actors and obsessed fans - and still not be guaranteed to stay on air. The shows that make a mark with audiences in spite of having a short TV life have been able inspire cult followings resulting in their re-emergence through DVD sales, Netflix and Kickstarter.
Here are a few shows that went off air too soon and fans are still often heard raving about them:
Veronica Mars
The cult classic show on UPN centred on a smart, formerly popular high school student played by Kristen Bell, who after getting cast out from the inner circle, starts moonlighting as a private detective and solving crimes in her small town. Despite winning multiple awards, the show never earned high ratings and was cancelled after three seasons. However, owing to relentless demands for a movie reunion, the show's creator Rob Thomas had begun a Kickstarter fund for the same in 2007 and the $2 million-goal was reached in less than 10 hours.
Freaks And Geeks
Movies are his thing now, but hit-maker Judd Apatow had a one-season wonder called "Freaks And Geeks" on NBC. A show that followed the lives of two unique groups of teenagers dealing with life in high school during the 80s, it launched the career of some of the most popular actors of today including James Franco, Jason Segel, Seth Rogen and Busy Phillips.
Looking at the silver lining though, Apatow fans owe all of his hit movies to the failure of "Freaks And Geeks". "Everything I've done, in a way, is revenge for the people who cancelled Freaks And Geeks..," Variety quoted him as saying at Paley Center for Media in Beverly Hills on 10 March.
Firefly
Joss Whedon's "Firefly" was one of his greatest accomplishments in storytelling; the concept was solid: take the ideas of a western and mix in the aesthetic of a space opera, sprinkle a charismatic lead in Nathan Fillion, and a healthy dose of relatable and intriguing characters. When this quirky sci-fi show that defied conventions was cancelled by Fox just after 13 episodes in 2002, its fan base was aghast. A DVD box set and Blue-ray series were released that did very well and helped establish a cult following that led to the making of a movie based on the series named "Serenity".
Happy Endings
Unlike its name, ABC's "Happy Endings" met with an untimely death. Although never a ratings hit, it succeeded in creating a cast that you wished you could have been friends with. Well in advance of ABC's decision to end the series with the third season, Sony Pictures TV had tried hard to explore a possible future for "Happy Endings", but ran out of time with the casting options. With hilarious inside jokes and light-hearted plots, this show deserved more time to cultivate a fan base, seeing as the audience was just getting to these six "ah-mah-zing" friends with their "cay-ute abbrevs".