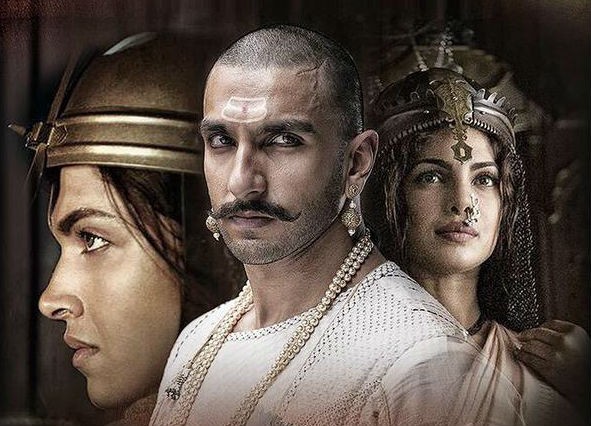 After Sanjay Leela Bhansali's magnum opus "Bajirao Mastani," which had Ranveer Singh, Deepika Padukone and Priyanka Chopra in lead roles, turned out to be a hugely successful film of 2015, the buzz is that a television show based on the love story of Maratha warrior Bajirao and his second wife Mastani, will soon go on air.
According to a SpotboyE report, the show will apparently be produced by Peninsula Pictures, which is also the producer of ongoing supernatural show "Vishkanya." While the cast of the show has been kept under wraps, a huge set in the outskirts of Mumbai city has reportedly been set up. The report also said that the makers are willing to start shooting for the show before the rain sets in.
The plot of Ranveer-Deepika's "Bajirao Mastani" essentially revolved around the love story Bajirao (played by Ranveer) and his second wife Mastani (played by Deepika); however, the story of Bajirao's troubled first wife Kashibai (played by Priyanka) was an important part of the film too.
Earlier, after the success of Hrithik Roshan and Aishwarya Rai Bachchan starrer "Jodha Akbar" (2008), a daily soap "Jodha Akbar" also went on air in 2013 with a similar storyline.
"Jodha Akbar" show was based on the 16th century love story and a political marriage between Mughal emperor Akbar (played by TV actor Rajat Tokas) and Rajput princess Jodha (played by TV actress Paridhi Sharma). While the show garnered massive success, it was under the scanner for transforming a historic period into a TV series. It had also drawn a lot of controversies especially from the Rajput community. After about two years of run, "Jodha Akbar" experienced a drastic drop in the ratings, forcing the makers to pull the plug.
Currently, "Jodha Akbar" show is being aired on Zee Anmol channel and although it is being re-telecast, it has managed to keep its ardent viewers hooked.