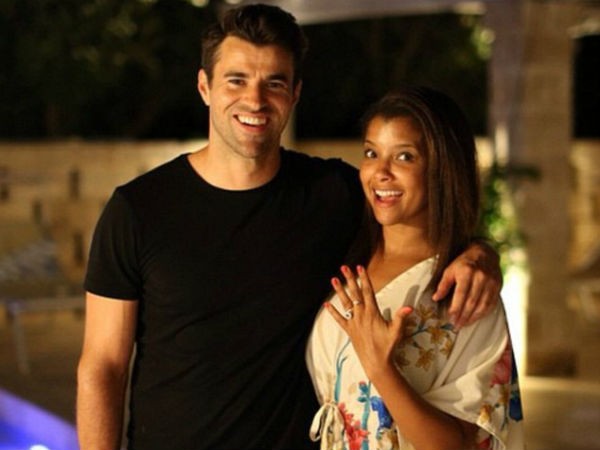 Television personality Steve Jones married model Phylicia Jackson in a hush-hush ceremony on Monday, 6 October. They couple tied the knot at Mayfair Library in London and their wedding reception was held on the same evening at Tower Bridge.
The couple got engaged in September, when Jones proposed to Jackson before her family with a vintage diamond ring during their holiday in Puglia, Italy. Jackson appeared to be elated and shared the news on her Twitter account last month.
"Well, it's been a perfect summer and even more perfect... WE'RE ENGAGED!!!! Surrounded by our dearest friends and family he popped the question at dinner last night and there wasn't a dry eye in the house. I'm living a real dream," she tweeted.
Though their decision to tie the knot in such a short period has come as a surprise to their fans, the couple is evidently looking forward to being together. "They are absolutely over the moon. All their friends and family are delighted for them. It might seem to have happened incredibly quickly to outsiders, given that they only had a few weeks to plan the entire day, but they couldn't be happier," a source close to the couple told the Daily Mirror.
On Monday, the couple exchanged wedding vows in front of their family members and close friends. The bride sported a strapless satin gown and the groom looked dapper in a well-tailored and stylish grey suit. Jackson tweeted a picture of her wedding dress with a caption - "Mrs. Jackson-Jones."
The couple is said to have spent two months together while on a road trip in Europe, and it is during this time the former "X Factor: USA" host realised he was in love with Jackson
Jones, who was earlier linked to Pamela Anderson and Hayden Panettiere, met Jackson in 2011 when he anchored The "X Factor: USA" and moved to the UK the next year.