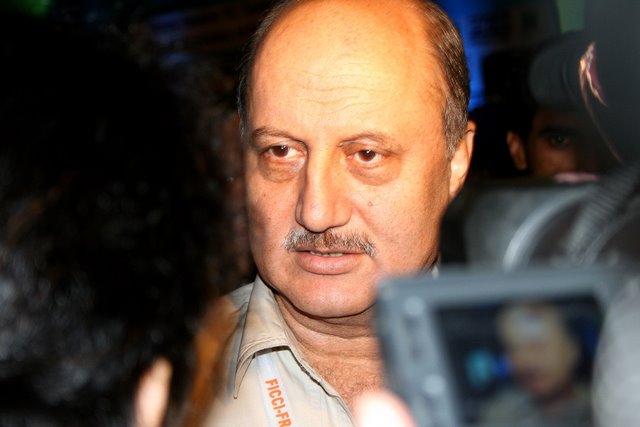 Actor Anupam Kher, who attended a charity event "Hum Hain Ummeed-E-Kashmir" in Delhi is reportedly miffed with Zee Television for editing his speech that included an excerpt from a book, which described the atrocities the Kashmiri Pandits had to face in Kashmir more than two decades ago.
Kher expressed his disappointment through twitter, from where he learnt that his recitation of journalist Rahul Pandita's poem on Kashmiri Pandits was removed from the telecast of the event. The decision to cut off that particular part was made without informing Kher, who was earlier allowed to recite a few lines within the allotted time slot of 8-9 minutes.
"... I was saddened by the whole thing. Being a Kashmiri, I know the plight of Kashmiri pandits who have been ignored for very long. I had already informed the event company about the reading and even sent them the paragraph that I had planned to read. I had asked them how much time I have and they said 8-9 minutes," The Asian Age quoted Kher as saying.
From Pandita's book, "Our Moon Has Blood Clots: A Memoir of a Lost Home in Kashmir," Kher recited a few lines – imagery of a heart wrenching events that the author himself witnessed back in 1990s, when he and his family (Kashmiri Pandits) were forced to leave their home in Srinagar.
In defence, Zee, which organised and telecasted the event has said the decision was taken in the wake of time crunch and that the portions which were relevant to the event was kept.
"Hum Hain Ummeed e Kashmir is a platform that is aimed at uniting people all across India to raise funds to rebuild homes and infrastructure in Kashmir and Assam. All comments by celebrities who associated with the cause were edited to be of maximum three minutes in duration and only portions that were relevant to the initiative were retained for the four-hour telecast across 35 channels of Zee," Zee business head Pradeep Hejmadi said.
Claiming to have kept the relevant portions of all the celebrities who attended the event, Zee removed the recitation part, apparently believing it to be irrelevant. But Kher believed that his recitation -- expressing the pain and humiliation the Kashmiri Pandits had to face while they were being dragged away from their own land in the Kashmir valley -- was absolutely relevant to the event.
"If they had a time crunch, they should have deleted a dance performance rather than a portion that was so relevant to the event. Seven lakh of us were thrown out of our land, our women were raped. It is a sensitive issue and should have been dealt with in a better way," Kher noted.
Supporting Kher's reaction to the way Zee handled the sensitive issue, actor Sanjay Suri said that when a speech is delivered in relevance with the event and is as sensitive as this, it must not be scrapped.
"The point here is that when an invited guest is speaking and that too a person who has his roots from the very place for which the entire event is organised, I think it's only fair to give the speaker that time. When you call a show 'Umeed', hope is inclusive and cannot be exclusive," Suri said.
The event was organised by Zee and Wizcraft in association with Hindustan Times to raise funds for the Kashmir flood victims who were left homeless after the massive floods destroyed their homes.
The topic of the event took Kher back to the days when Kashmiri Pandits had to face similar atrocities for nearly a decade after they started moving out of the Kashmir valley in 1985.
The only difference between the two incidents is that the flood victims have been left homeless because of nature's wrath, while Kashmiri Pandits were dragged away from their own land, from their own homes by human beings over religious differences.