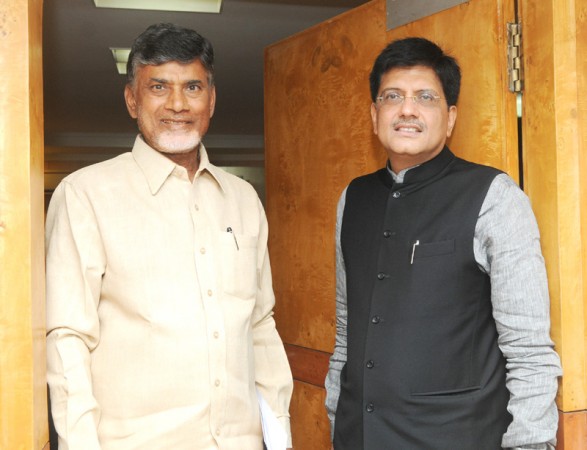 Andhra Pradesh Cabinet on Monday passed a resolution to seek the Union government's intervention to ensure admissions to professional colleges in the state take place in time.
The Cabinet also decided to take an all-party delegation to the Centre on students' nativity and fee reimbursement issue. This was stated by AP Chief Minister N Chandrababu Naidu soon after the Cabinet meeting. The AP Cabinet's resolutions come in the wake of the state government's differences with Telangana on these issues.
Telangana government was delaying counseling of Engineering, Agriculture and Medical Common Entrance Test (EACET) and admission process, Naidu said.
Naidu stated that as per the Supreme Court's orders the admissions to the professional courses in the colleges must be completed by August first week. Telangana government should explain reasons for the delay of EAMCET counseling, he added. The Cabinet resolutions will be sent to the Centre.
On the issue of nativity, raised by Telangana government, Naidu severely criticised the state Chief Minister K Chandrasekhar Rao.
"The Telangana government cannot decide anybody's nativity. There are certain Acts that can decide nativity and we must implement them. The State Bifurcation Act 371D defines nativity," Deccan Chronicle quoted Naidu as saying.
The AP Chief Minister stated that while the Supreme Court had said that EAMCET counseling and admissions must be completed by next August end, Telangana government was mulling to postpone the counseling. Due to delaying of the EAMCET counseling, about 9.50 lakh students both in AP and Telangana are worrying, he added.
Naidu said that AP Bifurcation Act 371D clearly states how the joint EAMCET and admissions should be conducted but Telangana government was objecting this. Due to Telangana government's stand on the issue, students have already started to go to other states for admissions, Naidu stressed. Considering the veracity of the issue, Telangana government should immediately conduct EAMCET counseling, Naidu added.
For effective implementation of Integrated Child Development Services (ICDS) scheme, the state Cabinet has taken a decision to fill 456 posts on contract system, Naidu pointed out.
According to Naidu, the state exchequer will have to bear a burden of about Rs 35,000 crore due to writing off farm loans, Rs 7,500 crore due to Dwakra loans, and around Rs 600 crore due to weavers and SCs' loans.
On other decisions of the Cabinet, Naidu said that LNG terminal will be permitted at Gangavaram port, which could fetch a revenue of Rs 3,085 crore through VAT collection, Naidu said. Pension scheme and NTR Sujala Sravanthi scheme, the drinking water supply scheme, will be implemented from 2 October. He also stated that his government is committed to include Kapu community in the BC list.
Naidu also stated that the government would control high prices of tomatoes and onions in the state through market intervention.