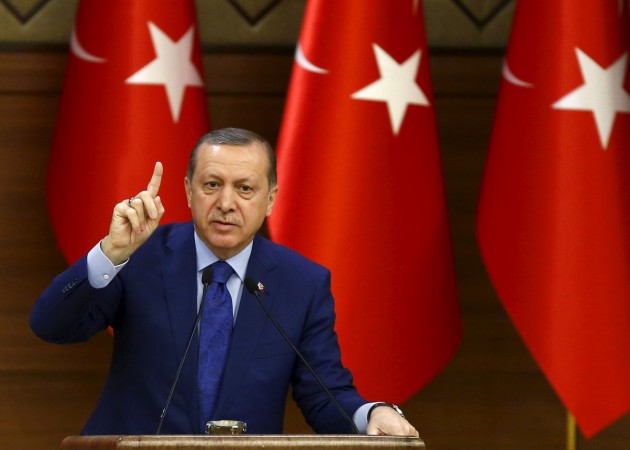 Social media is a place that is one of a kind. One can get a lot of information from it, right from news, rumours, milestones in people lives and so on. However, all this comes at a price and users must know when to filter information and how to deal with things that may ruin their mental peace. And one person learning things the hard way is Turkey's President Recep Tayyip Erdogan.
The Turkish president is taking legal action against Dutch cartoonist Ruben Oppenheimer, for an illustration that shows Erdogan in an ISIS flag printed underwear having sex with Twitter's blue bird logo. The cartoon, posted on Oppenheimer's Twitter account, carried a caption that says: "Erdogan is not a goatf****r."
Now, Twitter has received a legal order from the Turkish court to remove the cartoon from the micro-blogging site and the same was forwarded by the firm to the cartoonist. However, he has said that he will not remove the cartoon and even reposted it with a comment: "So this is the cartoon Erdogan wants to make disappear from Twitter. Is it very silly if I now make a call to massively share it again?"
He also went on to post images of the court order and said: "Christmas came early this year! And in the form of a court order on behalf of my Great Goat-eating friend Erdogan. Would actually be nice to let Theo Hiddema assist me. To be continued..."
Christmas came early this year! En wel in de vorm van een gerechtelijk bevel namens mijn Grote Geitenneukende Vriend Erdogan.
Zou toch eigenlijk wel lollig zijn om me te laten bijstaan door Theo Hiddema. Wordt vervolgd... pic.twitter.com/H8tQ82ehqT

— Ruben L. Oppenheimer (@RLOppenheimer) December 18, 2017
After receiving the order, the political cartoonist got in touch with the Dutch Association of Journalists on the matter and was told that he will not need to take any action unless an order is directly sent to him. "To be sure, I asked in The Hague if the Netherlands has an extradition order with Turkey. There is indeed such an order, but it does not count for minor cases such as cartoons.
'In the meanwhile I will wait and will not book my summer holidays to Turkey out of security reasons."
Twitter is said to be deciding what steps it should take. For now, the firm hasn't removed the image but said that it "may be obligated to take action regarding the content identified in the legal request in the future," the NL Times reported. The micro-blogging site has also requested Oppenheimer to let them know if he plans to remove the cartoon or contest the Turkish court's order.
"We are not able to provide legal advice. You may wish to consult legal council about this matter," it said.
This is not the first time that Oppenheimer has been asked to remove his cartoon from social media. In 2016, Facebook had removed his cartoon as it apparently violated the social networking site's guidelines. "We use the same guidelines worldwide that have been developed to make Facebook a safe place," the firm said, according to the Daily Mail.