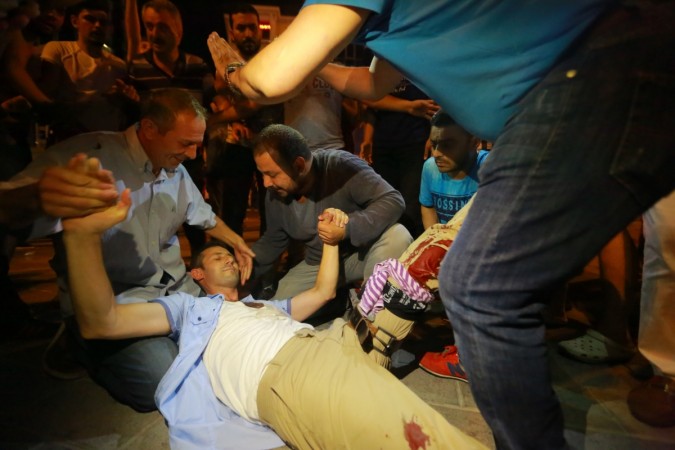 A three-month state of emergency was declared in Turkey by President Recep Tayyip Erdogan on Wednesday following the failed coup bid by the military that claimed the lives of over 230 people and left hundreds injured.
Erdogan said that the emergency would make it easier for his government to take appropriate and swift measures against those who supported the coup and that it was permitted under the country's constitution.
"The purpose of the declaration of the state of emergency is, in fact, to be able to take the most efficient steps in order to remove this threat as soon as possible, which is a threat to democracy, to the rule of law and to the rights and freedoms of the citizens in our country," Erdogan said during a live television broadcast, adding that the governors would have expanded powers with the army under their control.
He further added that all the "viruses" in the military would be cleaned. "It is very similar to a cancer... It is like a metastasis that is going on in the body that is Turkey. And we will clean it out."
Around 60,000 soldiers, police, judges, civil servants and teachers have been suspended, detained or are being investigated since the coup.
Academics have been forbidden from travelling outside the country because the government wants to stop alleged planners of the coup at universities from fleeing. Istanbul University has alone removed around 95 academics from their posts since Friday's coup attempt, Reuters reported citing TRT state television.
A senior official said that almost one-third of the country's 360 serving generals have been detained – 99 of them are pending trial while 14 others have been held.
Military judges and prosecutors are being investigated by the Defence Ministry with 262 of them already suspended, Reuters reported citing NTV broadcaster. Around 900 police officers were also suspended on Wednesday.
The authorities on Tuesday shut down media organisations that were considered supporters of US-based cleric Fethullah Gulen, whom Erdogan considers the plotter of the coup. The Education Ministry has suspended over 20,000 teachers and administrators. One hundred intelligence officials, 492 people from the Religious Affairs Directorate, 257 from the prime minister's office and 300 from the energy ministry have also been dismissed from duty.
Over 6,000 soldiers have been detained, 3000 judges and prosecutors suspended and 8,000 policemen in Ankara and Istanbul removed since the attempted coup.