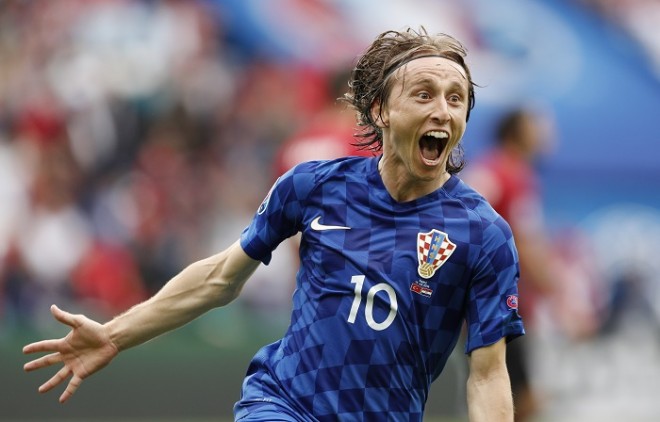 Luka Modric's 25-yards first half strike proved to be the difference between Croatia and Turkey as the midfielder's goal helped the Croats take three points from their Euro 2016 opening match. Croatia looked in complete control of the game, and played some quality football to defeat Turkey on Sunday.
Besides the incredible goal, Real Madrid player, Modric showed us why he is one of the best players in the world, inspiring his team with a commanding performance. Darjo Srna was another bright spot for Croatia.
Croatia started the match brightly, dominating possession. Croatia looked better out of the two teams right from the start, and they even threatened to take an early lead, but could not score.
Turkey got involved into the game, as the match progressed, but did not receive much chance to break the deadlock. Their first major chance came in the 29th minute, with a relative free header on goal, but Ozan could not help Turkey take lead as he glanced the ball straight to the goalkeeper.
Ozan needs to learn the art of scoring goals from Croatia's Luka Modric, who hit an amazing volley in the 41st minute from 25 yards out to help his team take important lead. Croatia deserved the opening goal after dominating Turkey in all departments of the first half.
Turkey did not have a great first 45 minutes, and had to come up with a brilliant second half to even manage a point from their opening Euro 2016 match.
Turkey looked positive after the restart, playing some good football, but were nearly two goals down as Srna's free kick hit the cross bar in the 52nd minute. The Croatian once again got a chance to put the game to bed, but hit wide of the target.
The story was not much different in the second half for Croatia, who enjoyed good possession once again. Despite Croatia looking comfortable, Turkey were not giving up, as their opponents were just one goal ahead.
However, it was Croatia, who threatened to score and take the game away from the Turks. Ivan Perisic hit the crossbar with a header in the 72nd minute as well.
Despite Turkey's attempt at goal, Croatia looked too good, and picked up crucial three points with this impressive win.