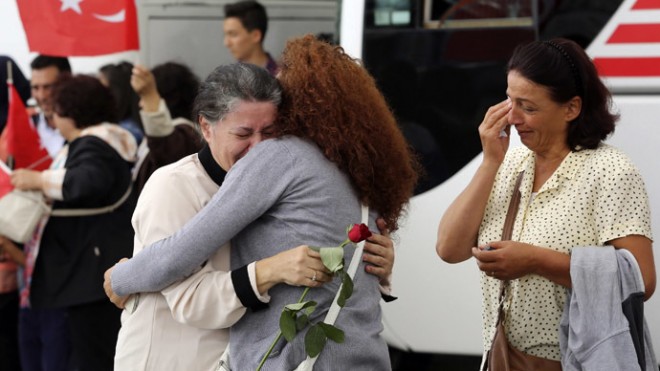 The Ankara government in its deal with the Islamic State militants, may have reportedly set free at least 180 ISIS terrorists, including two British jihadists.
Since the release of the 49 hostages from the Turkish embassy in Mosul, there have been fears that Turkey may have struck a damaging deal with ISIS.
Earlier last month, Turkish President Recep Tayyip Erdogan had hinted that the 49 hostages might have been freed by the ISIS as part of a prisoner swap.
"You might have an exchange but it takes some effort to prepare for such a thing," BBC quoted Erdogan as saying.
A recent report in The Times has found that the British counter terrorism officers were investigating two British jihadists -- Shabazz Suleman, 18 and Hisham Folkard, 26 -- who were among the 180 ISIS fighters traded by Turkey to secure the release of its consular staff in Mosul.
Similarly, a Yemeni ISIS militant, who goes by the name of Al-Mqdad al-Sharouri, had claimed on Twitter that he was also one of the prisoners freed by the Turkish government.
Earlier speculations on the prisoner swap had put the number of ISIS fighters released by Turkey at 50.
A report by Hurriyet Daily News had claimed that the day 49 Turkish hostages were released; Liwa al-Tawhid, a Syrian rebel group with close ties to Turkey also freed 50 ISIS members.
Since the hostage crisis, many had feared that the Islamic State militants would be able to arm-twist Ankara into submitting to its will and the fears seems to be coming true. Turkey's stance in the US-led coalition war effort against ISIS still remains vague and ambiguous.
Additionally, Ankara also has remained non-cooperative in its support to Kobane, a small border town in Syria that shares its boundaries with Turkey. The local Kurdish fighters, including women have been fighting a brave battle against ISIS, while Turkey and the US-coalition forces till now have refused to help the town.