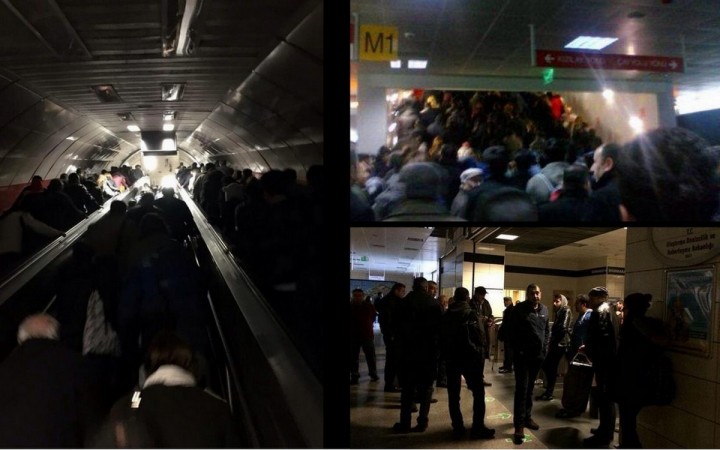 Turkey is reportedly facing a massive power outage since Tuesday morning.
Recent reports reveal that due to the massive power cut triggered by transmission line problems, the airline services in Istanbul have also been affected as the country's traffic control room is currently off-grid.
Several regions, including capital Ankara and biggest city Istanbul, are facing a blackout. It is reported that there was no power even in the Turkey's Parliament located in Ankara.
According to the chamber of electrical engineers, the blackout in Turkey could last over a day.
Local reports state that in Istanbul, metro, tram and Marmaray services have come to a halt due to the power cut. As a result of the blackout, emergency teams had to rescue stuck passengers out of the metro tunnel.
A Reuters report noted that there were power cuts in more than 40 provinces. There has been no explanation till now on what caused the massive outage. Prime Minister Ahmet Davutoglu reportedly have told local news sources that an investigation into the massive power outage in the country has been ordered.
Terrorism among others factors are being looked into by the investigating agencies, the Davutoglu told reporters. Turkish energy minister Taner Yildiz on the other hand said that he was not sure whether the power outage was because of a technical fault or cyber attack.
The state-run Anadolu news agency reported that TEIAS officials have said the outage hit many regions at 10:36 am (0736 GMT) due to a problem in transmission lines. They said a technical assessment had begun and they were working on restoring electricity as soon as possible.
Some Turkish news source reports that Turkey's electrical grid system has collapsed and power plants aren't working.
Several social media users posted pictures of passengers being evacuated from Istanbul's metro station.
There are reports that in Kocaeli,which is an important industrial town of Turkey, several factories have stopped production.
A widespread power outage in Turkey is affecting flights. 11 of 16 FR24 receivers are down. http://t.co/F84acygyGx pic.twitter.com/O1TgT1qjI5

— Flightradar24 (@flightradar24) March 31, 2015
This is the first time in 15 years that the country has faced such a crippling power outage. In the meantime as the Turkish authorities investigate the terrorism claims, a Twitter account affiliated to Isis hinted that the group may have had something to do with it, the claim but can not be verified.
How do you like this, Turkey? https://t.co/rq71GmRYUG

— Islamic State Media (@ISIS_Med) March 31, 2015