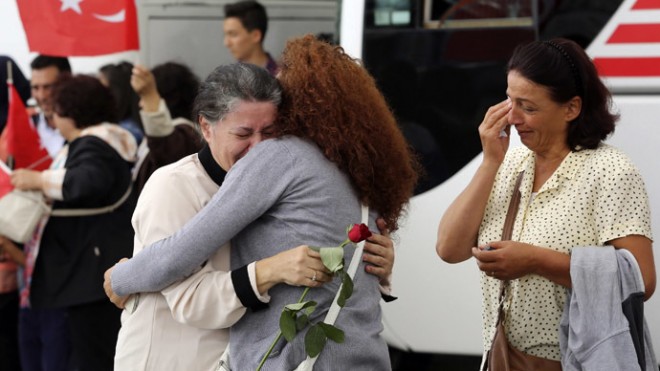 A Yemeni ISIS militant, who goes by the name of Al-Mqdad al-Sharouri, claims that he was one of the prisoners freed by the Turkish government, in exchange of its diplomats and their families held hostages by the Islamic State in Mosul.
The release of al-Sharouri was confirmed by Zaid Benjamin, a senior journalist for Radio Sawa, who specialises in Middle East affairs.
However, it is yet to be confirmed whether he was released from a Turkish prison or he was among the 50 ISIS captives reportedly released by Liwa al-Tawhid, a Syrian rebel group with close ties to Turkey.
Al-Mqdad al-Sharouri, #ISIS fighter from #Yemen, says he was freed by #Turkey in exchange for #Mosul diplomats pic.twitter.com/Beqgdf4NMo

— Zaid Benjamin (@zaidbenjamin) October 2, 2014
According to a report in the Hurriyet Daily News, the same day 49 Turkish hostages were released, 50 ISIS members were set free by al-Tawhid.
Ever since the release of the 49 Turkish hostages in Mosul, there has been several unanswered questions on the way Ankara secured the release of these hostages.
Earlier last month, Turkish President Recep Tayyip Erdogan had hinted that the 49 hostages, might have been freed by the ISIS as part of a prisoner swap.
"You might have an exchange but it takes some effort to prepare for such a thing," BBC quoted Erdogan as saying.
Erdogan's remarks only went to reinforce the suppositions on the exchange of hostages.
Ankara, on several occasions, has openly supported the group, and the country's close ties with al-Tawhid is now a common knowledge.
The Hurriyet report also noted that among those who were released by al-Tawhid, the wife and children of Abdulhamed al-Abidi al-Deilimi, a senior commander of the al-Qaeda-Iraq wing of Abu Musab Zarqawi - who was killed in Aleppo last January, was also present.