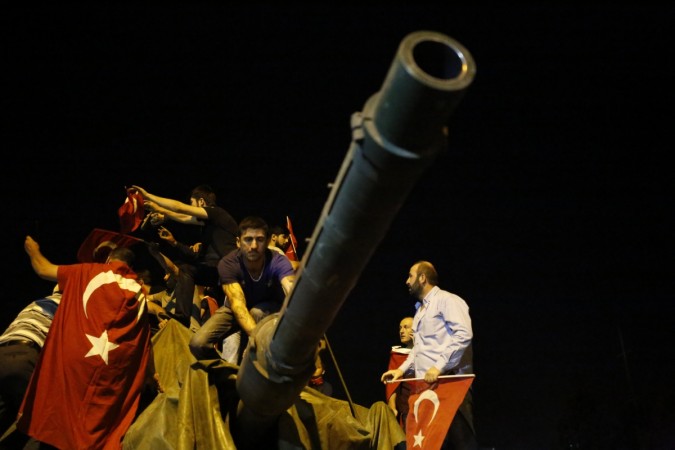 As the dust settled in Turkey, the government said it was in full control of the country and economy, even as the authorities continued to widen their crackdown on suspected supporters of the botched coup, taking the tally of those detained, including senior military personnel and judges, to over 6,000.
"Control across Turkey has been restored and there are no clashes at the moment…There are still a few important soldiers on the run and being sought. I believe they will be captured shortly," a senior official was quoted as saying by Reuters. While flights have reportedly resumed at Istanbul airport, the central bank said it would provide unlimited liquidity to banks, in a bid to reassure investor before markets opened on Monday.
Justice Minister Bekir Bozdag said more arrests were expected on top of the 6,000 already detained. Among those arrested is the commander of the Incirlik air base, General Bekir Ercan Van, who coordinated air strikes on Islamic State group militants in Syria and Iraq through U.S. aircrafts.
Overnight, loyalists rallied in public squares in a show of defiance, at Istanbul airport and outside the palace of President Tayyip Erdogan after the coup attempt that led to the killing of at least 265 people.
"They will pay a heavy price for this…This uprising is a gift from God to us because this will be a reason to cleanse our army," Erdogan was quoted saying to Reuters while indicating that the purge is far from over.
"Let's hang them!" chanted a crowd in Ankara's central Kizilay square late on Saturday. Erdogan did not rule out the suggestion, but added that parliament may consider a proposal to bring back the abolished death penalty to punish those who committed treason.
Erdogan, who had accused exiled cleric Fethullah Gulen and his followers for being responsible for the coup, called on the United States to extradite Gulen. But U.S. Secretary of State John Kerry, while establishing their eagerness to cooperate with Turkey, made it clear that the U.S. would act only if there was evidence against Gulen. Kerry also warned Turkey their labour minister's allegations suggesting U.S. involvement in the plot was harmful for their relations because the claims are "utterly false."
Gulen who strongly denounced the allegations suggesting his involvement in the coup, said the attempted overthrow may have been staged to justify a crackdown.
Meanwhile politicians have expressed their unease at the methods deployed by the government to purge disloyal and treasonous elements through the use of repressive measures since the attempted coup.
"We want the rule of law to work fully in Turkey… The coup attempt is not a blank cheque for Erdogan. There cannot be purges, the rule of law must work," Jean-Marc Ayrault, French foreign minister, was quoted saying by Reuters.
"He would strengthen his position domestically, but he would isolate himself internationally," Oettinger, an ally of German Chancellor Angela Merkel, was quoted saying by Reuters.