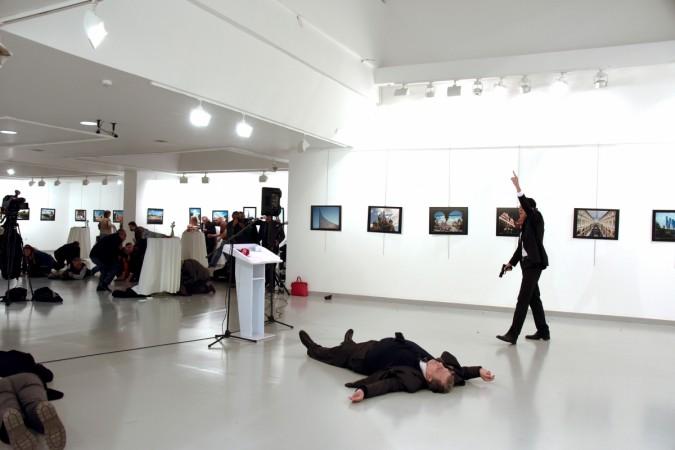 Turkey detained six people on Tuesday over the assassination of the Russian envoy to Ankara by a Turkish policeman. The step was taken by the nation as Russia sought answers from the Turkish government.
The Turkish capital is on a high alert after a series of deadly attacks in Ankara. A gunman also opened fire outside the United States embassy in the capital on Tuesday, just hours after Russian ambassador Andrei Karlov was shot dead. The shooter, who was armed with a shotgun, was caught at a security checkpoint after he fired almost a dozen bullets towards the building, Sabah newspaper reported.
Turkey has increased patrolling around diplomatic buildings in the country after Karlov's assassination. The gunman was heard shouting, "Don't forget Aleppo, don't forget Syria" during the deadly attack at the Russian envoy near the Center for Contemporary Arts. Other reports state that the gunman shouted, "We die in Aleppo, you die here and don't forget about Aleppo, don't forget about Syria, Allahu Akbar...," according to Sputnik news.
Russian President Vladimir Putin also spoke to his Turkish counterpart Recep Tayyip Erdogan after the attack. During their conversation, Putin was briefed about the shooting. The Russian President said that the attack in Ankara was a "provocation," which was aimed at spoiling the Russia-Turkey bilateral ties and postponing Moscow's attempt to find solutions for the Syrian crisis, Reuters reported.
Putin on Tuesday demanded swift answers from Turkey saying "we have to know who directed the hand of the killer." The Russian government also said that they were sending an investigative team to Turkey to probe the murder.
Ever since the attack, Russia has demanded that the shooting of the Russian ambassador be labelled "an act of terror."